Home Cooking by Laurie Colvin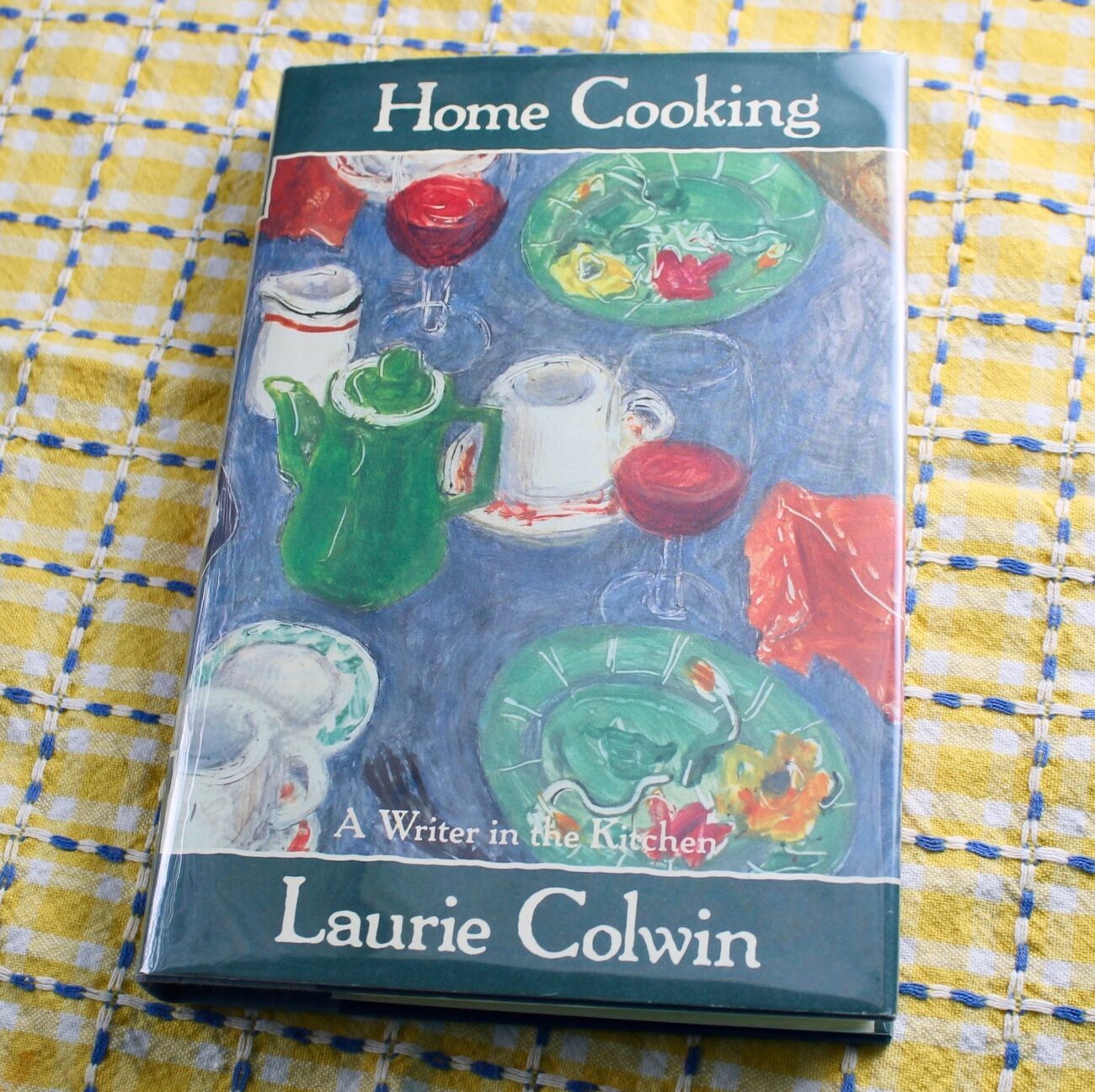 Laurie Colwin was a wonderful writer and an excellent cook. But the best thing about her writing was how she could communicate feelings, comfort, and a sense of place. Home Cooking is one of her best.
When I found this book and read it for the first time, I had to stop after each chapter, sigh, and just let it all sink in. Laurie Colwin is the kind of writer I would love to be someday.
Ms. Colwin, who died in 1992 at the age of 48, wrote a monthly column for Gourmet magazine, lots of short stories, and six novels. I adore them all and have probably reread them each about 20 times. This book is a collection of some of her Gourmet columns. Those columns were the reason I bought that magazine, and have been searching for old Gourmet magazines on eBay to try to find some that may have slipped by publishers.
They are insightful, beautifully written, soothing, and contain some of the best recipes I have ever made.
I absolutely love her recipe for pot roast, which is slowly cooked with red peppers until meltingly fork tender. Recipes for gingerbread, chocolate cake, chicken salad, and orzo with broccoli di rabe have become favorites at my house. Be sure to try the recipes when you buy the book. I know it's tempting to just keep it by your bedside and read it for comfort!
This recipe is for her classic pot roast. It is included in Friday Night Supper, an essay all about slowing down and enjoying a satisfying dinner on the weekend.
Her comment at this point is: People often eat this in total silence in which case you may assume that you are not going to have any leftovers.
Like all her recipes, this one is simple, elegant, straightforward, and easy to make. Just follow the instructions and you'll eat the best pot roast of your life.
Laurie Colwin's Perfect Pot Roast
1 5-pound chuck steak
2 teaspoons paprika
3 tablespoons olive oil
3 red bell peppers
2 yellow onions, sliced
1 carrot, cut into chunks
6 cloves garlic, sliced
2/3 cup red wine
1 8-ounce can tomato sauce
Roll the steak in the paprika and brown it in the olive oil in a large skillet over medium heat for about 10 minutes, turning frequently. Transfer to a large Dutch oven.
Add the peppers, onions, carrot, and garlic to the skillet. Cook and stir for 5 minutes. Remove the vegetables to the Dutch oven with the meat. Then add the red wine and tomato sauce to the skillet, scraping the bottom to get up the drippings. Cook for 10 minutes.
Pour this mixture over the meat in the Dutch oven, add some black pepper, and cover.
Roast in a 300°F oven until tender, about four to five hours. The meat should be tender and you should be able to easily stick a fork in it. It will literally fall apart. Transfer the meat to a clean platter and cover with foil.
Remove the vegetables from the juice in the Dutch oven with a slotted spoon and push them through a sieve. Do not use a blender or food processor because you want to create a smooth puree.
Pour the puree into a large saucepan, add the meat juice from the Dutch oven, and cook over medium heat until the gravy thickens, about 10 to 15 minutes. 
Slice the pot roast and spoon the gravy over it, saving some for the gravy boat.
**************************************************************
The essay I love most in the book is called "Alone in the Kitchen with an Eggplant." (That is now the title of a collection of best loved essays from food writers and non-food writers about secret meals and cooking for one.)
In the book, she writes about her very first adult apartment, a studio in Greenwich Village with a hotplate and no kitchen. Her place had a high ceiling, which was a good thing, since a low one would have made my apartment feel like the inside of a box of animal crackers. She cooked a lot of eggplant at the time, and invented all sorts of strange dishes that she ate at her desk with her feet up on her small wicker endtable, watching the evening news in her cozy apartment. She writes about her routine, the foods she cooked there, the parties she gave, and how after years and years, some things never change.
Now I have a kitchen with a four burner stove, and a real fridge. I have a pantry and a kitchen sink and a dining room table. But when my husband is at a business meeting and my little daughter is asleep, I often find myself alone in the kitchen with an eggplant, a clove of garlic and my old pot without the handle about to make a weird dish of eggplant to eat out of the Meissen soup plate at my desk.
Sigh.