Curried Chicken Salad Menu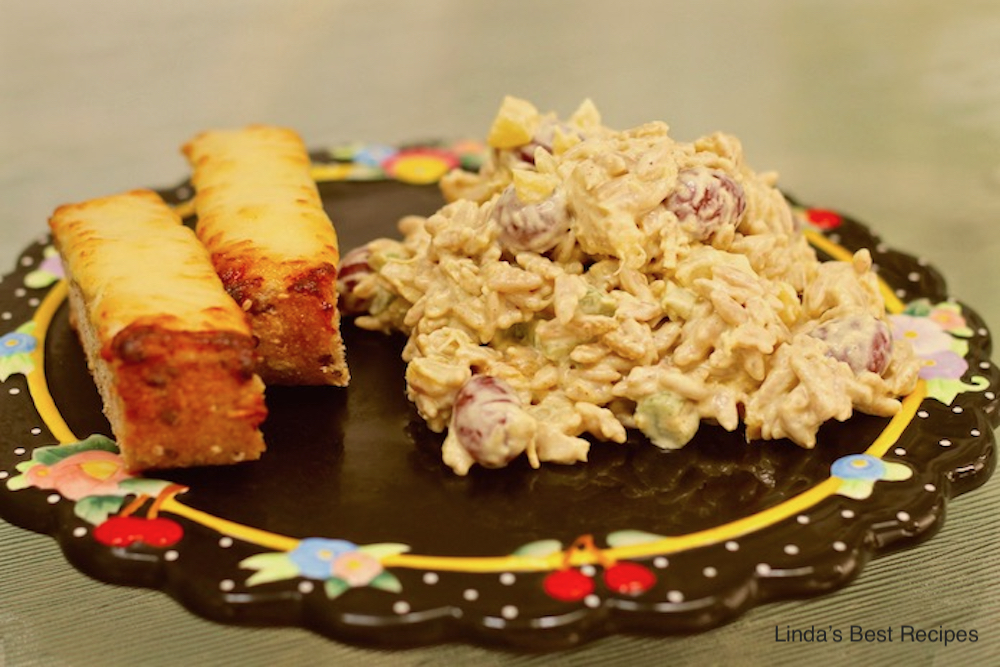 This fun Curried Chicken salad menu is perfect for a warm summer evening. The combination of a cool spicy and sweet salad with hot and crunchy bread sticks is perfect. And the brownies for dessert are a wonderful end to this easy meal.
The salad is rich yet light with a great combination of textures and flavors. The  pineapple and grapes are sweet, the chicken is tender and moist, and the dressing is spicy with lots of curry powder and mango chutney.
Even when you are eating a cold salad, it's nice to have something hot too. Cheesy Toasted Bread Sticks are the perfect accompaniment to this flavorful salad. They are simple but rich, with a secret: Mayonnaise! When mixed with butter, it adds a creaminess that works really well with the melted soft cheese.
And the brownies – well, they are the perfect bite of creamy and sweet. A coconut and nut topping is broiled on top of chewy and soft brownies.
The salad needs to be made ahead of time, which really makes things easy. Make it in the morning when it's cool, then you can just pull it out of the fridge when you're ready to eat. The bread sticks do need to be made just before serving, but you can mix the spread and grate the cheese, so all you have to do is assemble and eat. And the brownies, of course, should also be made ahead.
Invite people over for this menu! You'll become famous.