About This Recipe
Every time I hear the word "tartlet," as in this recipe for Bacon and Cabbage Tartlets, I think of an episode of Friends that starred Jon Lovitz. Monica was trying to impress the restaurant owner and had invited him to her apartment for a tasting. He arrived stoned, and when she told him they were waiting for the appetizer, he said, "Tartlets. Tartlets. The word has lost all meaning."
The strange name notwithstanding, there are so many things you can put into a tartlet. Most tartlets are sweet. This one is savory, with a twist: it uses red cabbage. I added bacon, of course.
This recipe is for a freeform tartlet. That means you don't use a pie tin or rings. You just put the pastry on a cookie sheet, add the filling and fold the sides over. The resulting pastry is gorgeous, with a rustic look.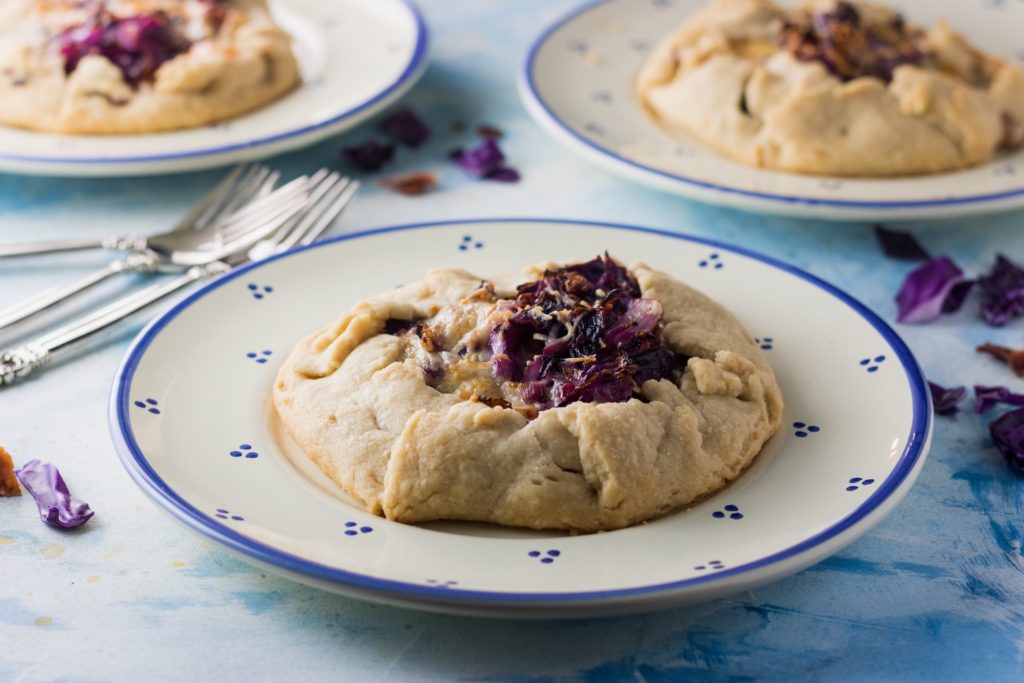 I like to make both the crust and the filling ahead of time; store them in the fridge. Then, when you want to eat, form the tartlets and bake.
Serve this pastry with a fruit salad: use apples, oranges, and cranberries in the winter, and melons and strawberries, or just lots of berries, in the summer.
Why this recipe for Bacon and Cabbage Tartlets works:
A freeform pie is just as good as a pie baked in a pie pan, but this type is easier. You don't have to worry about the crust slipping down the sides of the pan as it bakes. And it's more fun to make.
The cheese in the filling helps hold the cabbage mixture together, while adding great flavor and texture.
You can use a purchased pie crust in this recipe, but it's much better if you use a homemade crust. The crust is usually easier to handle too, especially when you chill it before rolling.
Steps
| | |
| --- | --- |
| | Preheat the oven to 400°F. |
| | In a large bowl, combine the shortening and 1/4 cup butter. Add the hot water and milk. |
| | Using a fork, beat the mixture using cross-the-bowl strokes, until the fat absorbs the liquid. This may seem like it will never happen - but keep going! In a few minutes, the ingredients will combine and will look like soft whipped cream. |
| | Add the flour and salt to the shortening mixture and mix until combined. Form the dough into a ball. |
| | Divide the dough into four pieces and roll out each piece to a 9" circle between two sheets of waxed paper. Put the crusts into the fridge while you prepare the filling. |
| | For the filling, cook the onion and garlic in 2 tablespoons butter until tender. |
| | Add the cabbage. Cook, stirring occasionally, for about 10 minutes or until the cabbage starts to soften. |
| | Add the lemon juice and 1/4 cup water to the saucepan. Cover and simmer for another 8 to 10 minutes or until the cabbage is tender. Uncover and cook, stirring frequently, until the liquid is absorbed. Stir in the bacon. |
| | Remove the pan from the heat and let cool for 15 minutes. Use this time to prepare the cheeses. |
| | To form the tartlets, spray a cookie sheet with nonstick baking spray containing flour. Put one pastry round on the sheet in one corner. You'll need to estimate where you want the pastry to end up; some of the pastry edges will extend beyond the edges of the cookie sheet. |
| | Add about a cup of the cabbage mixture to the center of the round. Add some of the Havarti and some of the Parmesan. |
| | Now fold the edges of the pastry up over the filling, pressing to seal. The filling should be visible in the center. |
| | Repeat with the remaining pastry crusts, cabbage filling, and cheese. |
| | Bake the tartlets for 30 to 40 minutes or until the crusts start to brown and the cheese browns. Serve immediately. |