About This Recipe
Everyone knows about this bar cookie recipe for Oatmeal Carmelitas, which was in the Pillsbury Bake-Off in 1967. Believe it or not, it did not win the Grand Prize! That fact still seems like a total mystery to me. At any rate, I have changed the recipe which now makes them Fabulous Oatmeal Carmelitas.
Things have changed since 1967. What most people don't know is that when this recipe was first published, Kraft caramels came in a 14 ounce package.
Now that package is only 11 ounces.
Which changes the recipe.
So I increased the caramel in this recipe, and this version is most true to the original. But I made some more changes, of course.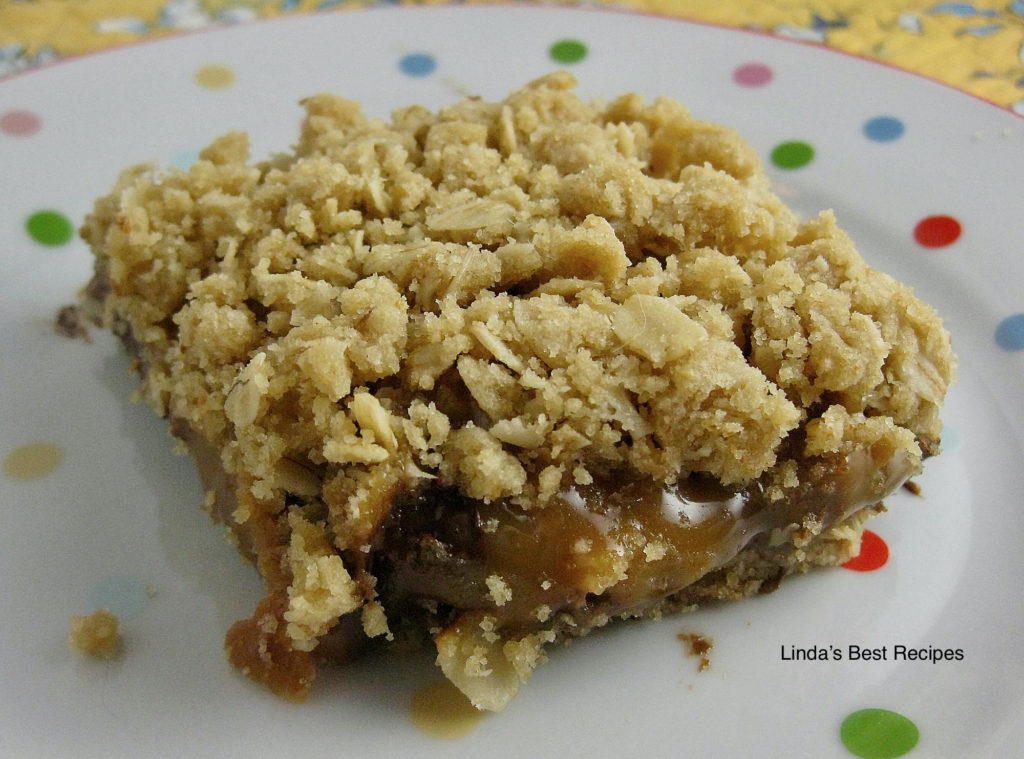 A little bit more butter makes the crumbly streusel more cohesive, so the bars are easier to cut. I left out the nuts and added more chocolate because – well, chocolate! And I added a little bit of crushed toffee to the streusel for more caramel flavor, but you can easily leave that out for a pure version.
All I can say is that this is my favorite bar cookie recipe of all time. And it will be yours too!
Tips for the best Fabulous Oatmeal Carmelitas:
The most common mistake I see with this recipe is that people overbake it. Do not leave this bar cookie in the oven longer than I say. It will not look done, but the caramel will be bubbling around the edges only.
Do not substitute caramel sauce for the square Kraft caramels. Using the actual caramels makes the recipe perfect.
Make sure you evenly divide the streusel mixture. If you don't put enough on the bottom the bars will not hold together.
Why this recipe works:
Well gee whiz, how can you go wrong with brown sugar streusel, chocolate, and caramel?
The caramel holds the bars together, and the chocolate adds wonderful flavor.
These bars are best if they are baked JUST until the caramel starts bubbling around the edges of the pan. Do not overbake, or they will be too hard to cut and eat. The perfect timing on my oven is exactly 18 minutes. Your oven may be hotter or not as hot; just check early and keep checking for the caramel bubble.
Steps
| | |
| --- | --- |
| | Preheat the oven to 350°F. Spray a 13" x 9" pan with nonstick baking spray containing flour. Unwrap the caramels and combine with the light cream in a medium microwave-safe bowl. |
| | Microwave the caramel mixture on high power for 1 minute; remove and stir. Continue microwaving for 1 minute intervals on 70% power, stirring after each interval, until the mixture is smooth. Set aside. |
| | Put 2 tablespoons of the oatmeal and the toffee bits in a food processor. Process until the particles are fine. |
| | Combine the toffee mixture with the rest of the oatmeal, the flour, brown sugar, and baking soda in a large bowl and mix. |
| | Add the melted butter and stir until everything is moistened. |
| | Pat half of the oatmeal mixture into the bottom of the prepared pan. Sprinkle with all of the chocolate chips. Then drizzle with the caramel mixture. |
| | Top with the remaining oatmeal mixture. |
| | Bake for 18-22 minutes or until the caramel is bubbling around the edges of the pan. Cool completely on a wire rack, then cut into bars. |