About This Recipe
This recipe for My Mom's Potato Salad is, without a doubt, the best potato salad on the planet. It uses an ingredient that some people may sneer at, but don't be fooled. That ingredient is crucial to the success of this recipe. The combination of tender red potatoes, super creamy and flavorful mustardy salad dressing, and a few vegetables is simply perfect.
You have to make this recipe exactly as I describe it. You have to use small red potatoes, and you have to boil them. I don't like adding ingredients like celery to potato salad because I think they interfere with the texture. Onions add the wrong flavor. But I do add radishes and hard cooked eggs, because that's what my mom added. And you HAVE to use Miracle Whip. It adds this fabulous tangy flavor to the salad that no other potato recipe has.
I always made more of the dressing too, as my mother did. The potatoes will absorb the dressing as they sit in the fridge. Add more of the dressing just before serving, so every bite is creamy, delicious, and absolutely perfect.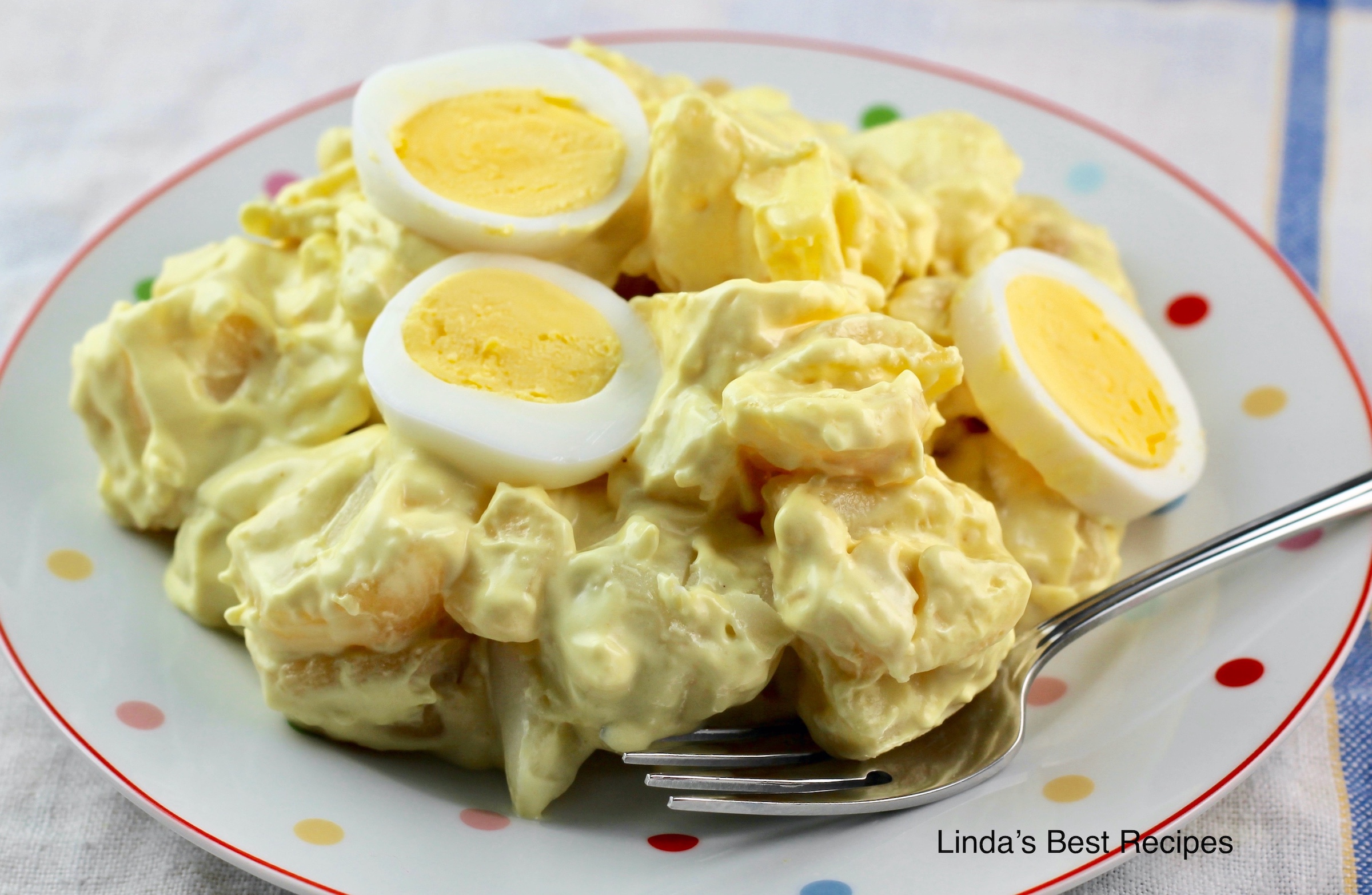 Yum.
This is the perfect dish to serve at your Fourth of July picnic. Just remember to pack it in an insulated cooler, with frozen cold packs or bags of ice. You don't need to worry about leftovers – there won't be any left! But if you do have some, use them to make Creamy Chicken Potato Salad. Yum.
Tips for the best My Mom's Potato Salad:
Cook the potatoes until a fork enters easily. The potatoes may crack; that's okay. Check the smaller potatoes first and remove them, then remove the larger ones as they reach the perfect consistency.
Make extra dressing. The potatoes will absorb it and you want this salad to be very creamy.
Do NOT use low fat ingredients in this recipe, at least the first time you make it. After you have tried the perfect original version, then you can fiddle with it if you want. I have to be bossy about this.
Why this recipe works:
Red potatoes are the correct potato for this salad, since the spuds hold their shape when cooked, but are porous enough to absorb dressing. The potatoes become creamy when cooked in simmering water. Russet potatoes are too mealy for this recipe.
Miracle Whip is the essential ingredient in this recipe. It adds a tang and a bit of sweetness that mayonnaise doesn't have.
Make sure that the dressing isn't too thick. It should be about the consistency of pancake batter so the potatoes absorb some, but there's enough dressing to keep the salad moist.
Steps
| | |
| --- | --- |
| | Bring a large pot of water to a boil. Add the potatoes and boil them under they are tender, about 20 to 30 minutes. Test the potatoes after about 15 minutes; the smaller ones will probably be cooked then. Remove the potatoes with a fork as they reach tenderness. |
| | Meanwhile, make the dressing. In a large bowl combine the mayonnaise, Miracle Whip (you CANNOT use anything else - this ingredient is the secret to the recipe!), milk, and mustard. Blend well with a wire whisk. This dressing should not be thick; add more milk if necessary. It should be about as thick as pancake batter. |
| | When the potatoes are all cooked and on the wire rack, but are still hot, start peeling them. As each potato is peeled, cube and add to the dressing. Adding warm potatoes to the dressing adds flavor to each bite. Stir the potatoes into the dressing as you work. |
| | When all of the potatoes are peeled and cubed, add the radishes and some of the hard cooked eggs and stir gently. |
| | Cover and chill the salad for at least 4 hours before serving. Garnish with the rest of the hard cooked eggs and dig in. |