About This Recipe
Before we get into the recipe for Puppy Meatloaf, a story. When I was young, we had the best dog in the world. She was a purebred German Shepherd from Chell Peterson. Her name was Naschafa von Buckman (she was from an "N" litter and that was her legal surname) whom we called Schafee.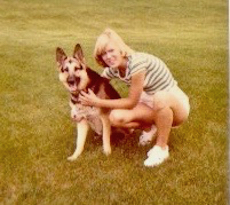 She had dozens of champions in her bloodline, and she developed quite a reputation around the county. She pinned a Sears television repairman against the fireplace, and after that, every repairman who came to the house first asked, "is that dog locked up?" But she was very gentle too. She once saw a woodchuck and ran toward it, barking ferociously, and did nothing but knock it over. Then she stood there barking at it.
My husband was the first person to try to breach the fortress of my family and Schafee and he did not have an easy job. He came to pick me up one day and Schafee came trotting around the corner of the house. He waited for someone to follow her, but she was alone.
So she saw him and charged toward him, barking with all her might. She bounced off him (I don't think she knew how to bite in anger), and he then used the magic words, "Schafee, is it going to RAIN? Is there going to be THUNDER? Are you going to have a BATH?" And she ran back around the house, terrified.
When she wanted something, she would gently take your hand in her mouth (this probably looked pretty startling) and would firmly lead you to her bowl, or a ball or other toy. Her favorite game was chasing rocks. For a while, we thought of writing a book titled, "Real Dogs Chase Rocks."  And she was so loving and affectionate, but only to the family. The picture is of me and Schafee a million years ago.
Puppy Meatloaf History
Mrs. Peterson developed this recipe (which I have changed a bit) to feed to the puppies as they were weaned. She was YEARS ahead of her time, since now many people feed their dogs homemade food.
This recipe for Puppy Meatloaf has saved the lives of several puppies who wouldn't eat anything else. One little puppy refused to eat. Her family put some of this Puppy Meatloaf down in front of her and she took a hesitant sniff, then licked it. Then she gobbled down the whole thing and she is now a healthy, happy dog.
I don't pretend that this recipe is completely balanced, and in fact we fed it as a supplement, but it's good for your dog. You can change it yourself as needed, since some dogs are allergic to wheat. Use oat bran instead of the wheat germ; use gluten-free bread, or add anything from flax seed to bran.
Of course, check with your veterinarian before you feed your dog anything other than commercially prepared dog food, which is balanced with the right nutrients your dog needs.
Steps
| | |
| --- | --- |
| | Preheat the oven to 350°F. You need ten small aluminum foil pans, about 5" x 3" for this recipe. |
| | You need a very large mixing bowl for this recipe. Combine the ground beef and cottage cheese in the bowl and mix well. Add the eggs and beat well. |
| | Then add the dry milk, wheat germ, bread, oatmeal, and rice and mix. |
| | Spoon the mixture into the pans. Put them on a cookie sheet and bake for 55 to 65 minutes. Make sure that the temperature reaches 160°F, and check that temperature with a food thermometer. |
| | Let the meatloaves cool for 1 hour, then refrigerate them. Do NOT store this food at room temperature. |
| | This meatloaf freezes very well. To thaw, let one loaf stand in the fridge overnight; don't thaw it on the counter. Then cut it up, add about 1 tablespoon of water or milk, and microwave on medium power for 10 to 20 seconds until the food is warm. And always throw away any food that has been sitting at room temperature for 2 hours. |