About This Recipe
Everyone has their favorite things. Mine happen to be books, cats, and frozen meatballs. Which are used to make Sicilian Meatball Supper.
Now before you think that sounds like a strange combination, think how each enhances your life. I couldn't live without books; I read hundreds a year. Cats are a comfort and necessity to me. And frozen meatballs can be used in hundreds of ways in the kitchen. I use them in soups, stews, casseroles, with pasta, and I crumble them up to use in place of ground beef in many recipes.
I will admit that I am paranoid about food safety. That is, after all, one of my jobs. But I also have a husband who is in a high risk group for food safety complications, so I am extra careful. I just don't like having raw ground beef in the house, no matter how carefully I handle it. I don't like having raw chicken either; rotisserie chickens are always on my grocery list.
With all that background, there is one recipe I have made many, many changes to over the years: Sicilian Supper. It was originally a Kraft recipe, I believe, but I changed it to accommodate my own tastes. I love the combination of cream cheese with beef, veggies, and a rich tomato sauce.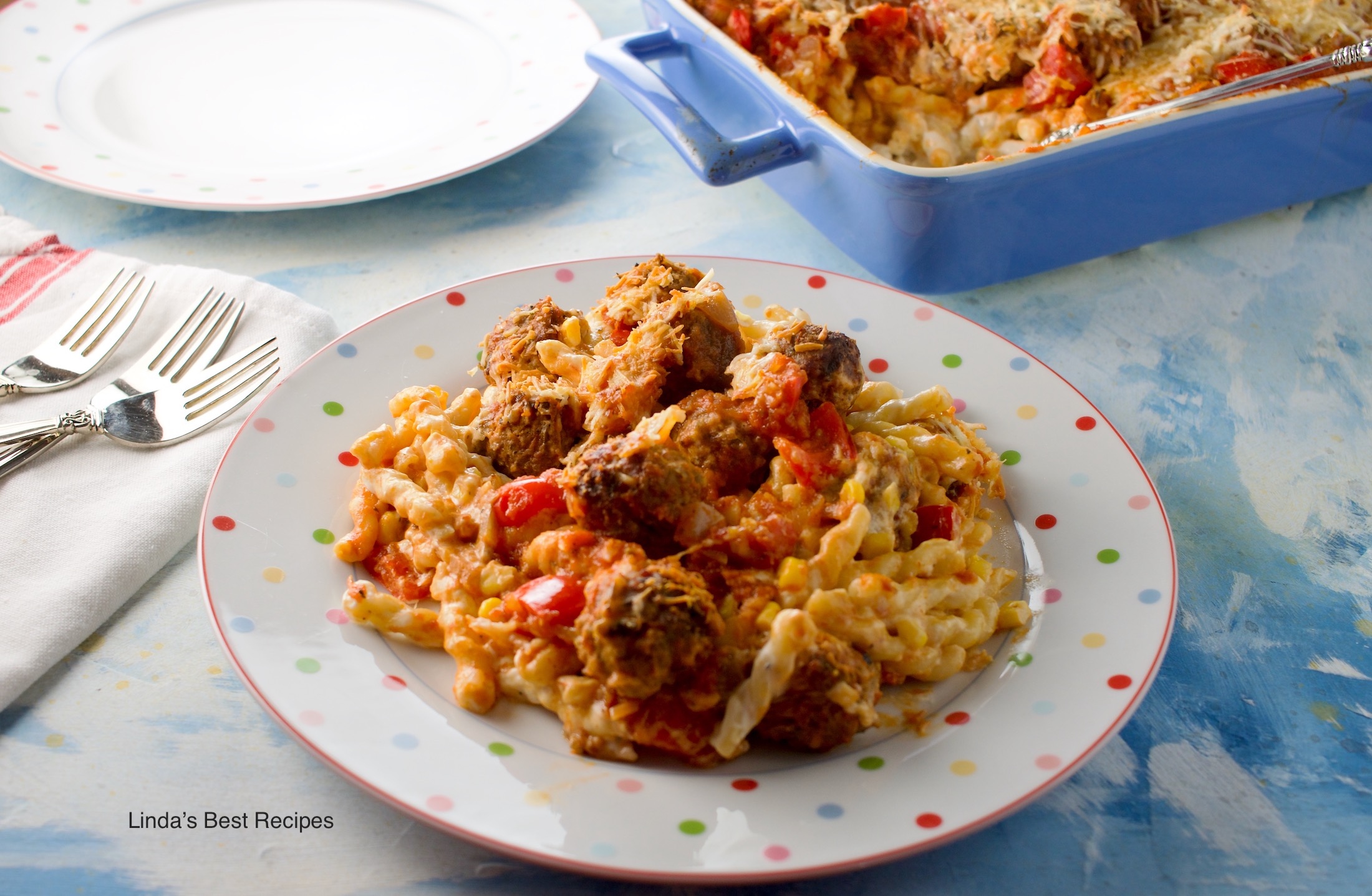 In fact, study the original recipe and look at mine for a good example of how to change a recipe. You'd never guess that mine came from the first if you saw them placed side by side.
This version is far from the original, but fabulous. I use meatballs in place of the ground beef, use lots more pasta and a different type, and – well, you'll see the rest.
This recipe for Sicilian Meatball Supper is pure comfort food. And it's easy to make and it feeds a crowd. Make a list of your favorite things – and add this dish to it. While petting your cat and reading a book.
Why this recipe for Sicilian Meatball Supper works:
Undercooking the pasta slightly makes the perfect texture when the recipe is baked. The pasta will continue to soak up liquid from the two sauces as it bakes.
Cream cheese melted into milk is the perfect shortcut for a white sauce. First, cut the cream cheese into cubes and add the milk. Microwave the mixture until it is steaming. When you take it out of the microwave, whisk it and the sauce will magically smooth out and thicken.
When cooking pasta, bring the water to a boil on high. Add the pasta and stir. You can then turn the heat down a bit so the water doesn't boil over. Or add a bit of butter or oil to the water; this disturbs the bubble formation by destroying the surface tension of the bubbles.
Steps
| | |
| --- | --- |
| | Preheat the oven to 350°F, and spray a 13" x 9" glass baking dish with nonstick cooking spray; set aside. |
| | Bring a large pot of water to a boil. |
| | Meanwhile, combine the olive oil, onions, garlic, and red bell pepper in a large skillet over medium heat. Cook and stir until tender. |
| | Add the pasta to the boiling water and cook until just short of al dente. When you bite into a piece, there should be a white line in the center of the pasta. Drain into a colander in the sink. |
| | Add the meatballs and pasta sauce to the vegetables in the skillet and simmer until the meatballs are hot; about 10 minutes. |
| | Combine the Alfredo sauce, cream cheese, and light cream in a saucepan and heat over low heat until the cream cheese melts. Stir with a wire whisk until smooth. Stir in 1/4 cup Parmesan cheese. |
| | Add the sour cream, drained pasta, and the corn to the Alfredo sauce mixture. |
| | Pour the pasta mixture into the prepared baking dish. Top with the meatball mixture. Sprinkle with the remaining 1/4 cup Parmesan cheese. |
| | Bake the casserole for 30 to 35 minutes or until it is bubbling. Serve immediately. |