About This Recipe
There are two kinds of sugar cookies: one is soft and chewy, the other thin and crisp. The thin and crisp ones are usually made by rolling the dough and cutting with cookie cutters. While that is all fine and good, it takes a lot of work. So for every day, I prefer this recipe for Soft and Chewy Sugar Cookies.
All you have to do is make the dough, chill it overnight, then roll the dough into balls and bake. This method is much easier and makes delicious cookies. Use them to make Easiest Fruit Tartlets, pack them in lunchboxes, or keep them in a cookie jar for an anytime snack.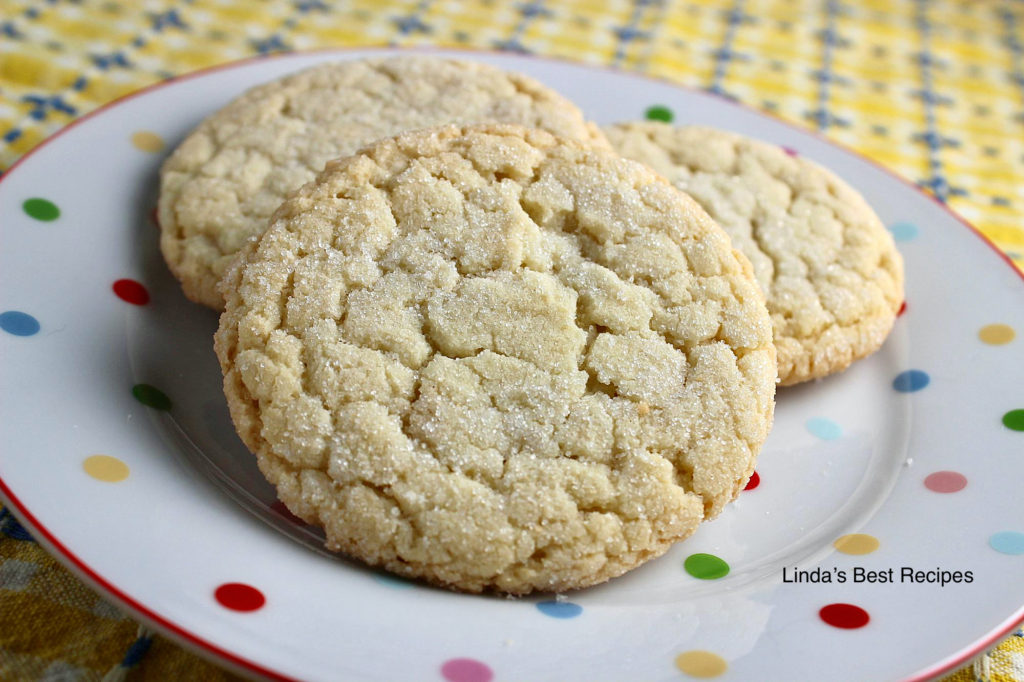 The only real requirement of this recipe, besides measuring the flour correctly, is giving the dough time to relax and chill in the fridge. This is a soft dough and it's easier to work with after it's been chilled. Oh – and don't overbake them. The cookies should just be very light brown around the edges when you take them out of the oven.
Enjoy!
Tips to make the best Soft and Chewy Sugar Cookies:
When you mix this dough, stir in the flour just until everything is combined and a dough forms. Don't overmix or the gluten will develop in the flour, which makes the cookies tough.
Let the cookies cool on the cookie sheet for 5 minutes so they bake a little longer in what is called "carryover" heat. They will be too fragile to transfer to wire racks before this standing time.
Store the cookies in an airtight container at room temperature. You can freeze them for up to 2 months for longer storage. Let them thaw at room temperature.
Why this recipe works:
The brown sugar makes the cookies chewy, as does the extra egg yolk. And the powdered sugar makes them more tender.
The balls of dough also help make the cookies soft, because the dough has to melt a bit before it sets up so the cookies stay tender.
Steps
Sift together the flour, cornstarch, baking powder, baking soda, and salt and set aside.

In a large bowl, combine the butter, granulated sugar, brown sugar, and powered sugar and beat until light and fluffy.

Beat in the egg yolks and vanilla.

Stir in the flour mixture until a dough forms.

Cover and chill in the refrigerator for at least 8 hours or overnight.

The next day, preheat the oven to 325°F. Line cookie sheets with silicone baking mats.

Roll the cookie dough into 1 1/2 inch rounds and roll them in granulated sugar. Put the cookies 4-inches apart on the prepared baking sheets.

Bake for 10 to 12 minutes or until the cookie edges are set but the centers still look soft. Do not overbake.

Let the cookies cool on the cookie sheet for 5 minutes, then remove to a wire rack to cool completely. Store in an airtight container at room temperature.