The Secret Way to Make the Best Cookies and Cakes
Baking is a complicated art and it's a science too. Unlike cooking, where you can throw anything you want into a pot of soup, baking recipes are developed with precise measurements. You can't add another 1/2 cup of milk to a cookie recipe and expect to get good results, but adding 1/2 cup of chicken stock to a soup won't change the soup. This is the secret way to make the best cookies and cakes.
Most home bakers have not been trained in food science and have not taken classes at a cooking school (who can afford Le Cordon Bleu?), so they follow a recipe the same way their mothers did, or they use the techniques they see on television cooking shows.
How many times, when a cake falls, brownies are tough, or cookies are dry and hard, have you blamed yourself? But it's not your fault! No one has told you the secret!
There is one simple way to improve every single baked good that comes out of your kitchen.
And that is to measure flour correctly.
If I had a nickel for every time I saw cooking show hosts measure flour the wrong way (while talking about how important accurate measurements are in baking), I would, well, have a lot of nickels. One host in particular (you know who you are) routinely presses a measuring cup into a flour canister and digs it out, then pats the flour down into the cup to "level it off" Using that method, she adds at least 25% more flour to every recipe. Sheesh.
One cup of all-purpose flour should weigh 125 grams. No more, no less. If you measure flour by dipping a cup into flour, especially flour that has been sitting in a canister for a while, you could be adding up to a cup of excess flour in some recipes.
And that additional flour makes cookies dry and tough, can make cakes fall or crumble, and will make pie dough unworkable. And it may put you off baking forever. And that would be a shame.
To correctly measure flour, first stir the flour in the canister. Then use a spoon and lightly spoon some of the flour into the measuring cup. Continue until the flour is overflowing in the cup. Then take the back of a knife and level off the flour. Then you can add it to the mixing bowl and continue with the recipe.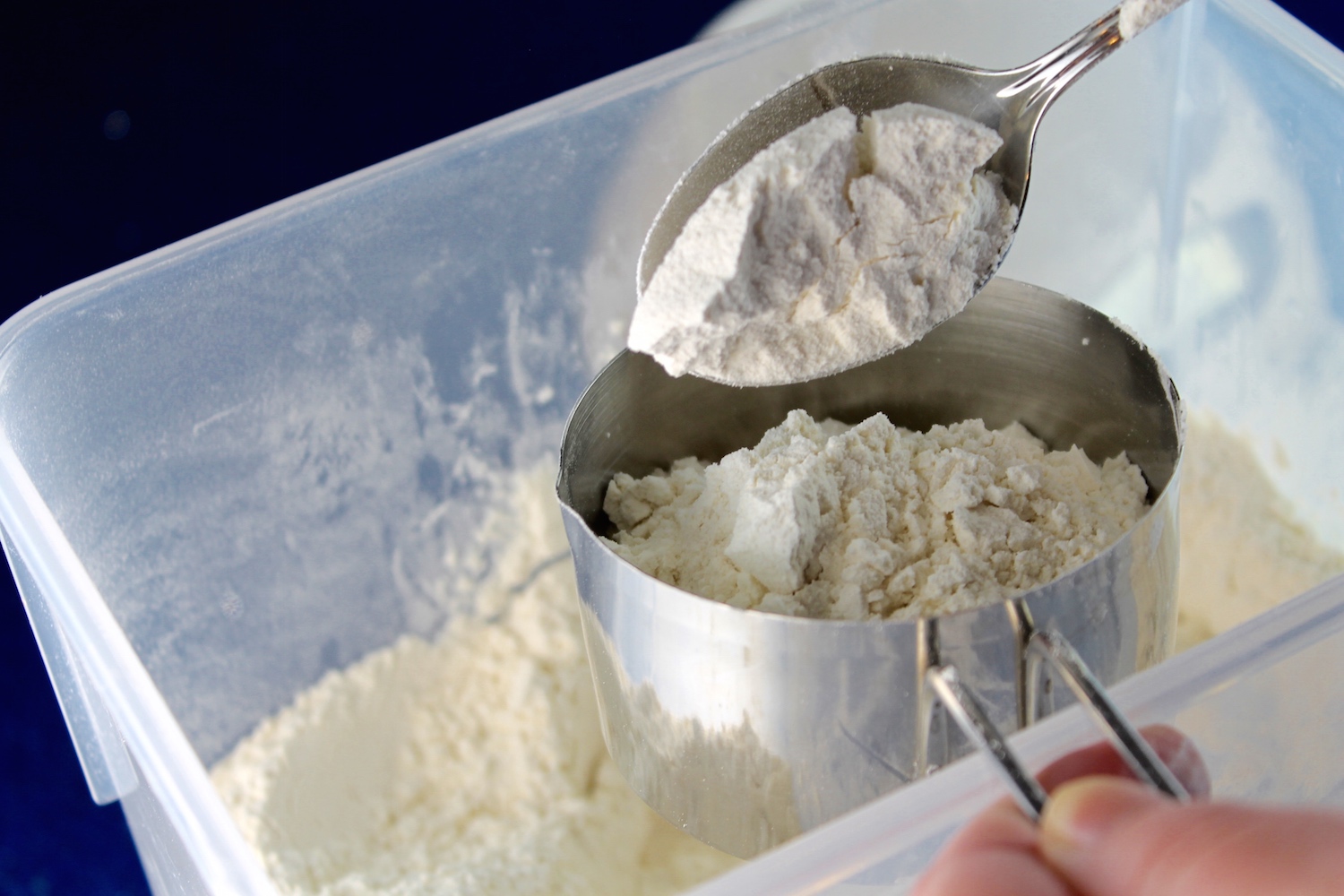 If you want to really be precise, buy a digital scale and measure the flour you add to recipes. You can even practice by measuring flour and weighing the results. In no time your measuring skills will be perfect and you will turn out light cakes, tender cookies, moist and chewy brownies, and flaky pie crusts.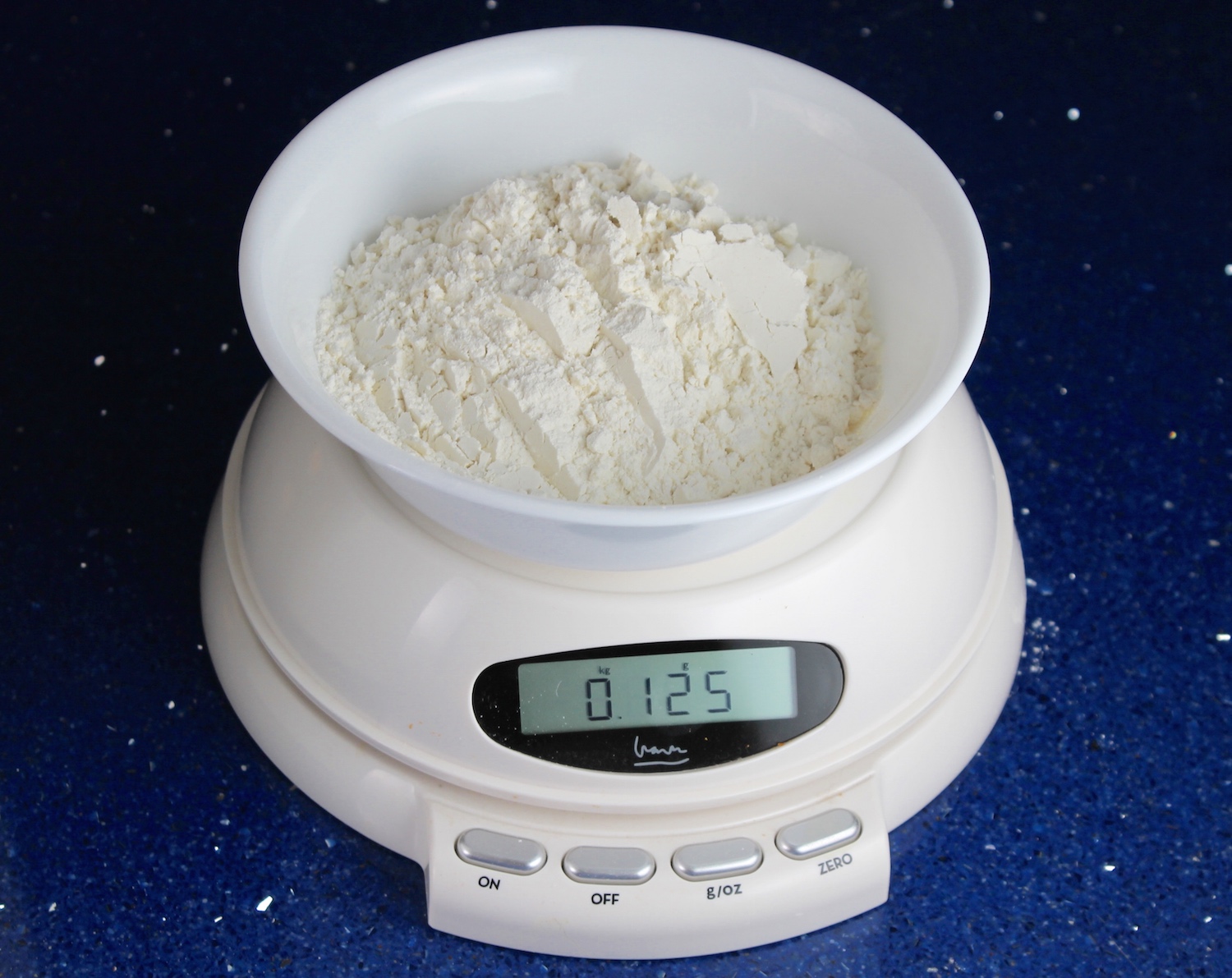 There is some argument about how much one cup of all purpose flour should weigh. I learned that it should be 125 grams, or about 4.40 ounces. The folks at King Arthur Flour say a cup should weigh 4 ounces. But the people at America's Test Kitchen claims a cup should weigh 5 ounces. I like my measurement, because it falls in the middle, and because I have had the best results using that number.
This secret is something I learned at the University of Minnesota in cooking class where we had to weigh everything, and at Pillsbury, when conducting tolerance testing (to see how a recipe performs when the ingredient measurements are changed slightly).
But I originally learned to scoop flour "lightly into the measuring cup" while reading Betty Crocker's Children's Cookbook when I was about eight years old!
Weights of Different Flours
1 cup all purpose flour = 125 grams = 4.40 ounces
1 cup cake flour = 100 grams = 3.50 ounces
1 cup whole wheat flour = 137 grams = 4.80 ounces
1 cup bread flour = 127 grams = 4.48 ounces
More resources:
My Baking Addiction has a great tutorial on how to measure flour.
Bake or Break delves into more detail on this subject.
Sally's Baking Addiction has some nice info and more about measuring other ingredients.
And read through the info at Mel's Kitchen Cafe too.
And …
If you really want to be precise, you can weigh all of the ingredients that go into your baked goods. That is how most cooks in Europe do it.
To handle this method, put your mixing bowl on your scale and tare it (that means zero it out; most digital scales have a little button labeled "tare"). Add each ingredient until the scale reads the correct amount. You may need a calculator for this! Tare the scale before you add each new ingredient. Then when you're done, you start mixing.
And here's a bonus secret: I always take a few tablespoons of flour out of every cookie recipe I try (not my own). And then I chill the dough before baking the cookies. This results in fabulously tender cookies that melt in your mouth.
The Recipes
Now that you are a measuring expert, try your hand at some of my best recipes:
Starlight Mint Chocolate Cookies
Browned Butter Toffee Chocolate Chip Cookies