About This Recipe
Chicken salad is a classic. You probably have a recipe for it yourself. But there are some secrets to making the best chicken salad. It must be flavorful and moist. The chicken should be tender and well seasoned. And the recipe can't have too many ingredients. Hence: The Best Chicken Salad
This is, after all, chicken salad. Chicken is the star. Every other ingredient is part of the supporting cast.
My main tip for making the best chicken salad is to buy rotisserie chickens. No matter how you cook your chicken, it will never be as tender as rotisserie chickens from the grocery store. And believe me, I have tried every method of cooking chicken. This is more expensive than buying raw chicken and cooking it yourself, but the results are worth it.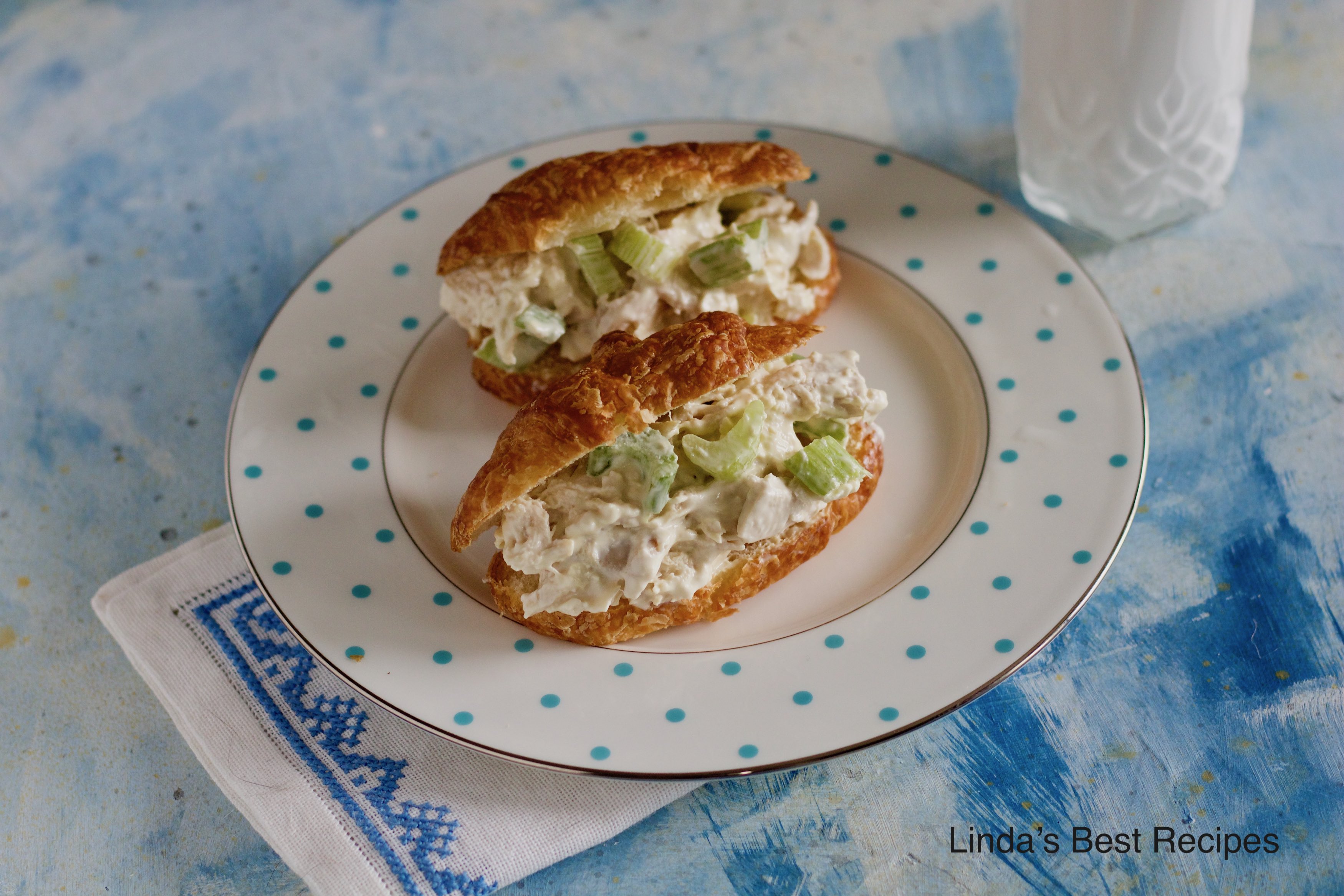 And when you have the perfect chicken salad, you are set for days. You can serve it as-is. You can make sandwiches with it (flaky croissants are my bread of choice). You can serve it as an appetizer spread on crackers. You can even add other ingredients to it (grapes are classic, as are chopped bell peppers, corn, avocados, peas, zucchini – any fruit or veggie!).
One note about the dressing – the amount you will need will vary. I like to make double the dressing, and add enough of the extra to the salad to make sure it's moist and flavorful. You can always use the dressing for your next chicken or pasta salad.
Enjoy this easy recipe for the best chicken salad. This is the best recipe to use for lunchbox sandwiches as the new school year begins.
Tips for best results:
I think that rotisserie chicken purchased from a grocery store is the most tender cooked chicken ever. I have tried to cook chicken in the oven, on the grill, on the stovetop, and in the slow cooker. While I have had best results in the slow cooker, rotisserie chicken is still the most reliable way to get tender, moist, flavorful chicken for a chicken salad.
Never skimp on the dressing. Remember that the warm chicken will absorb some dressing, so the final product will have less dressing than you think. You may even want to make more to add before you serve your fabulous salad.
Start with hot rotisserie chicken and work quickly. The chicken should still be very warm when you add it to the dressing.
Be very careful about bones when you remove the meat. There can be tiny bones that hide in the chicken; I have found some in my salads, when I thought I was being very careful.
You can add anything you want to this recipe, but I think the best salad is pure: chicken, dressing, and perhaps celery. That's it.
Why this recipe works:
The combination of tender chicken with a mild mayonnaise and mustard dressing is perfect. The mild chicken and the slightly spicy dressing complement each other.
The simplicity of this recipe is key. It's all about the chicken and the dressing.
Steps
| | |
| --- | --- |
| | In a large bowl, combine the mayonnaise, mustard, lemon juice, and light cream and mix well with a wire whisk to blend. |
| | Remove the meat from the rotisserie chickens, discarding the skin and bones. (You can save the bones for stock if you'd like). Work while the chickens are still warm - they will absorb more dressing that way. |
| | As you work, add the chicken to the dressing and stir to coat. When all of the chickens are in the dressing, add the celery. |
| | Cover and refrigerate the salad for an hour or two. Before you serve it, check to see if it needs more dressing. Store in the fridge up to 4 days. |