About This Recipe
M&M Cookies are like chocolate chip cookies on crack. The candies elevate this recipe to another level. I don't know who thought of this idea, but they should receive the Nobel prize. For cookies, I guess. Or maybe peace. Plus M&M candies for life. The secret ingredients to the best M&M Cookies aren't complicated. You just need a bit of kitchen knowledge.
But it's not just the candies. Two secret ingredients added to the dough make this cookie the most flavorful and chewiest M&M cookie you will ever eat: finely ground oatmeal and butterscotch chips; along with more egg yolks.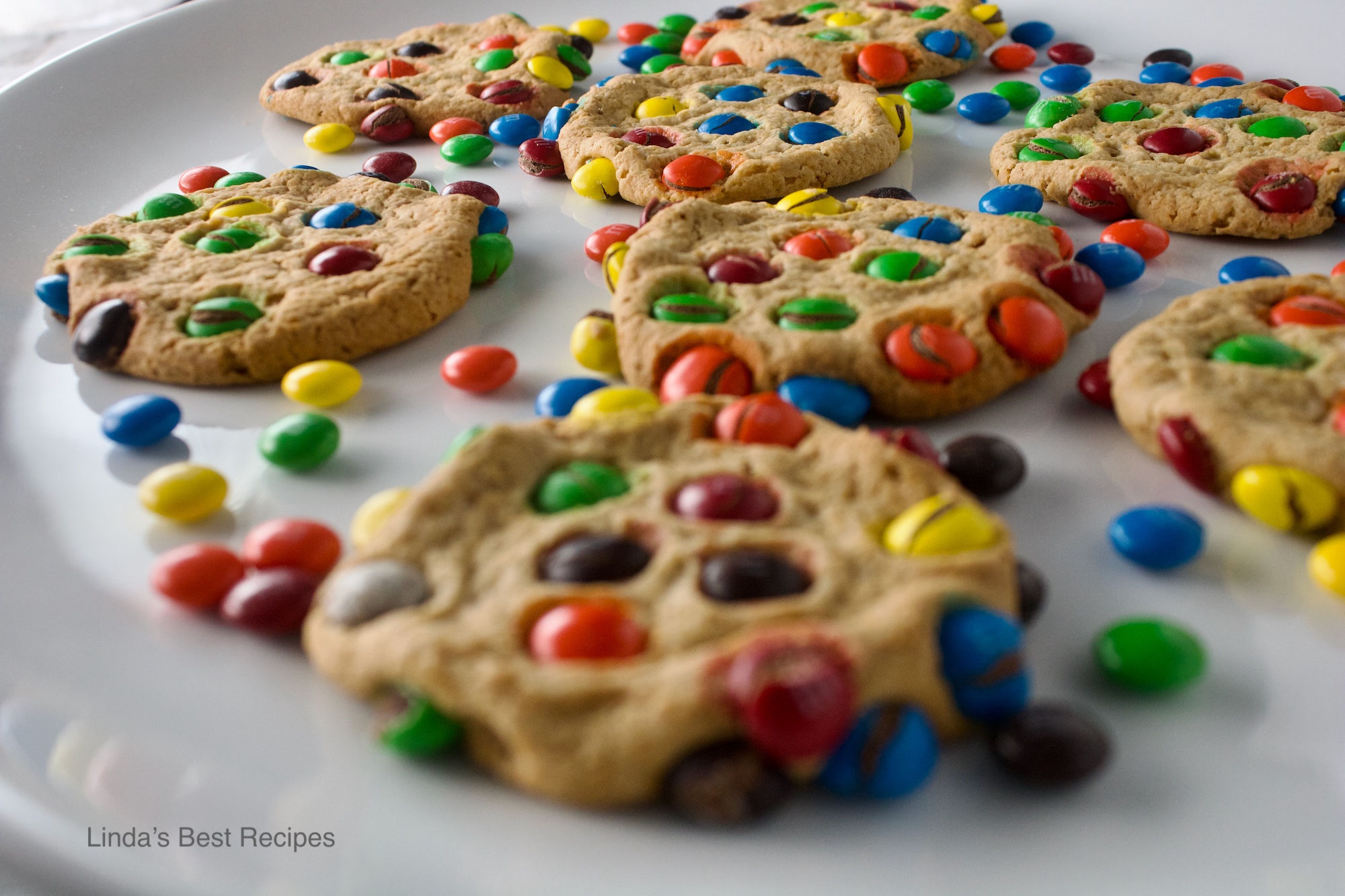 Why this recipe for the Best M&M Cookies works:
First, some science. Don't be scared!
In food science lingo, "finely divided solids" act as emulsifiers. That means they smooth out the texture of the food and help the ingredients blend together. In this recipe, ground oatmeal and ground butterscotch chips are the finely divided solids.
A lower baking temperature helps the cookies set up before much of a crust is formed. That makes a more even texture throughout the cookie while still keeping a slight crunch to the crust.
More egg yolks add more fat to the dough. This makes a more tender cookie with a smoother mouthfeel.
Brown sugar not only adds wonderful flavor, it is hydroscopic. The means it holds more water than white sugar. Again, making a more tender cookie.
Tips for the best M&M Cookies:
Always measure flour correctly when you are baking. Remember that baking recipes are much more tightly developed than cooking recipes like soup. You can add more ingredients to soup and it will still be good. But if you mess with a baking recipe you're asking for trouble.
In fact, measure everything carefully. Follow the directions for the temperature of the ingredients too.
Watch for the doneness of the cookie. Nothing ruins a cookie faster than overbaking: it will be tough and hard and dry. Take the cookies out of the oven when they are very light golden brown and look not quite done in the center. They will finish baking on the residual heat of the cookie sheet.
And cool the cookies on a rack. That will prevent sogginess.
Steps
| | |
| --- | --- |
| | In a large bowl, combine the butter, brown sugar, and sugar and beat well until the mixture is smooth. |
| | Add the vanilla, eggs, and egg yolks and mix well. |
| | Now combine the oatmeal with the butterscotch chips in a blender or food processor. Grind until the particles are fine. Don't grind too long or you'll end up with a paste and the recipe won't work. |
| | Stir the oatmeal mixture, flour, and baking soda into the butter mixture. Then add the M&M candies. |
| | Cover the dough and chill for at least 2 hours. |
| | When you're ready to bake, preheat the oven to 325°F. Drop the dough by rounded tablespoons onto cookie sheets lined with parchment paper. Press a few more M&M candies onto the tops of each dough mound. |
| | Bake the cookies for 12 to 17 minute or until the cookies are light brown and set. Slide the parchment paper off of the cookie sheet onto wire racks. Let cool, then peel the cookies from the paper. Store in an airtight container at room temperature. |