About This Recipe
This recipe for Whipped Cream Truffles is simply amazing. It is also used as the filling in Truffle Tart, but is simply spectacular on its own.
The recipe comes from my aunt Carol Sue. It was lost for years and I was so happy when I found it. This is the perfect recipe for Valentine's Day.
This recipe is unusual because the ganache (chocolate and cream mixture) is whipped after it is chilled, which is not usually the way truffles are made. That step adds air to the mixture and makes the truffles just melt in your mouth.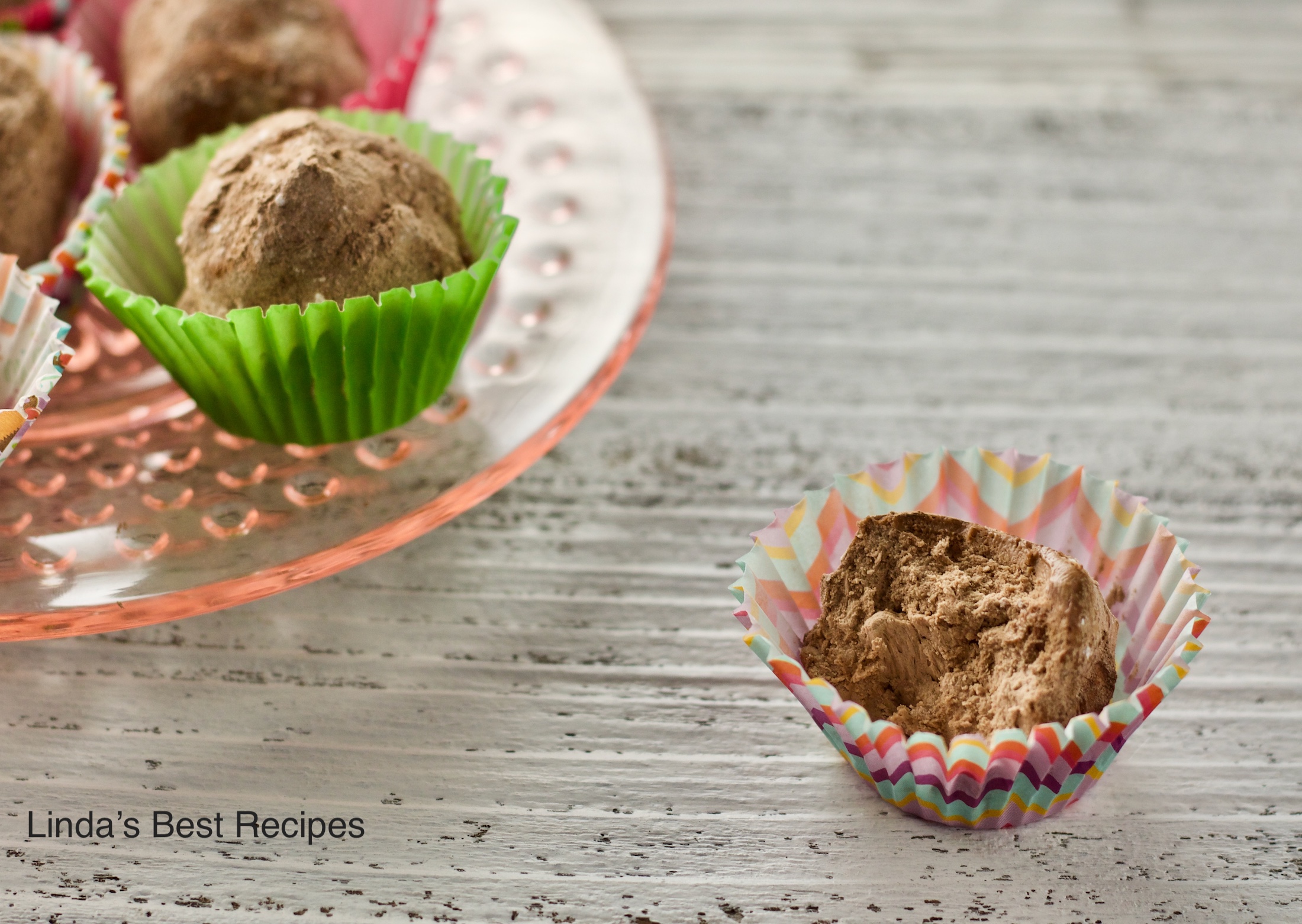 I myself do not like truffles that are coated in pure cocoa powder; I think that makes the candy much too bitter. Hitting pure bitterness before your tongue can react to the sweetness of the candy is just jarring to me. You may feel differently. I am a super taster for bitter, which means that anything that is bitter tastes VERY bitter to me. Which explains why I hated Brussels sprouts so much as a child.
You can coat these whipped cream truffles in pure cocoa powder if you'd like, or dip them into melted chocolate or roll them in chopped nuts or coconut. Or just eat the mixture out of the bowl with a spoon!
Whatever you do, MAKE THEM!
Tips for the Best Whipped Cream Truffles:
Do not let the cream boil or the taste will be adversely affected. Watch it carefully while it's in the microwave oven.
Stir the chocolate cream mixture thoroughly, but stop when the two mixtures are completely combined.
Make sure you chill the ganache thoroughly; it should be completely solid, or the mixture will be too soft to form into balls.
Why this recipe works:
Melted chocolate and cream makes something called a ganache, that must be chilled before you can work with it.
Whipping the ganache adds lots of air to the mixture, which makes the candy very fluffy and airy. It whips because cream whips.
You can dip these truffles in melted chocolate for even more decadence. Melt 2 cups of dark or milk chocolate, then dip the little candies and let them stand until set.
Steps
| | |
| --- | --- |
| | Put the chocolate chips in a large microwave-safe bowl. Put the cream in a small microwave-safe bowl. |
| | Microwave the chocolate chips for 1-2 minutes on medium power until the chips soften and start to melt. Then microwave the cream on high power for 2 minutes or until bubbles form around the edges and steam rises. You don't want the cream to boil. |
| | Pour the cream over the partially melted chocolate and stir. The chocolate will seize at first (get thick and lumpy), but don't panic. Just keep stirring and everything will melt and become satiny smooth. Stir in the vanilla. |
| | Cover the bowl and refrigerate the chocolate mixture for an hour or two until it's firm. Meanwhile, sift the cocoa powder and powdered sugar together and put on a plate. |
| | Using an electric mixture (you HAVE to use a mixer), beat the chocolate ganache until it is light and fluffy. This should take a minute or two. Don't beat too long or the mixture will be too stiff. |
| | At this point you may want to refrigerate the chocolate mixture for a few minutes to make it a bit firmer. Or just start forming the truffles now. Scoop up about two teaspoons of the chocolate mixture and roll into a ball using the palms of your hands. Then roll each truffle in the cocoa powder mixture. |
| | When all of the mixture is formed into truffles, cover and chill. Take the truffles out of the fridge an hour before you want to serve them. Then sink into them and enjoy every bite. |