About This Recipe
Valentine's Day is coming up! What are your plans? I myself am going to make Truffle Tart, one of the very best recipes for this romantic holiday.
Most people buy some chocolates or flowers for their sweetie. But you can make this fabulous tart with just four ingredients and it will knock your socks off.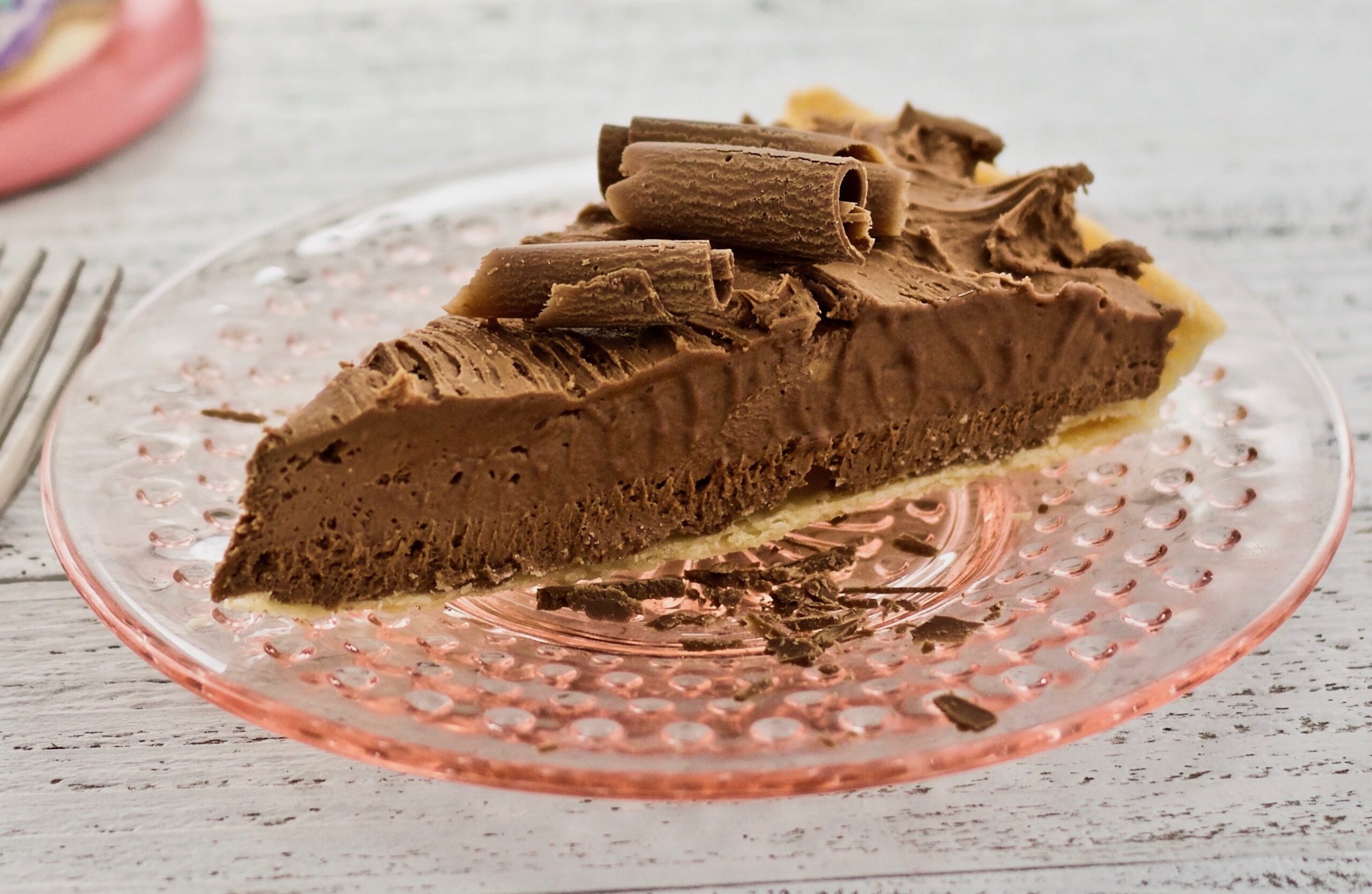 This recipe is based on my aunt Carol Sue's recipe for truffles. That is the most unusual recipe for that chocolate candy I have ever seen. Chocolate and cream are melted together, then refrigerated. And here's the unusual part – the mixture is then beaten until it is light and fluffy. That makes the candy literally melt in your mouth.
That truffle mixture is put into a baked, flaky, and tender pie crust.  (Use my foolproof recipe for Hot Water Pie Crust!) Top with some chocolate curls if you'd like, or simply scrape some chocolate bars with a vegetable peeler to make pretty shards of chocolate.
Then dig in!
Tips for the best Truffle Tart:
When you make the pie crust, be sure to measure the flour correctly; spoon it into the measuring cup, don't use the cup to scoop the flour.
Make sure that you chill the ganache mixture completely and thoroughly before you whip it or the filling will be too soft.
A small piece of this pie is enough because it is very rich.
Why this recipe works:
Ganache, which is a combination of cream and chocolate melted together, can be whipped to make it fluffy and airier.
The method of baking an empty pie crust is called "blind baking." You can put any uncooked filling into a crust that has been blind baked.
Top this Truffle Tart with some softly whipped cream. By the way, when you whip cream, you should always add a little bit of powdered sugar. Cream by itself tastes strange with a weird almost cooked taste, and the sugar removes that weird taste. And powdered sugar contains some cornstarch, which helps stabilize the foam.
Steps
| | |
| --- | --- |
| | Preheat the oven to 400°F. Place the heavy cream in a small microwave safe bowl. Put the chocolate chips into a large microwave safe bowl. |
| | Microwave the cream until bubbles form around the edges. Microwave the chocolate chips until they are softened and partially melted. |
| | Stir the cream into the chocolate chips. This mixture will seize at first - the chocolate will get hard and lumpy. Don't despair - just keep stirring. Eventually everything will smooth out and the mixture will be silky. |
| | Stir in the vanilla until blended. Then refrigerate the chocolate mixture until it is firm. |
| | Meanwhile, place the pie crust dough into a 9" or 10" tart pan with a removable bottom. Prick the bottom of the dough with a fork. Bake for 12 to 15 minutes or until the crust is light golden brown. Cool completely. |
| | When the crust is cool and the chocolate mixture is firm, it's time to assemble the tart. Beat the chocolate mixture with an electric mixture until it is light and fluffy. Don't over beat or the mixture will get too hard. When the color turns light brown and it's fluffy, stop beating. |
| | Spoon the chocolate mixture into the tart shell and carefully spread to fill the shell. Now cover the tart and chill it until firm. Then slice and enjoy! |