About This Recipe
I love main dish pasta salads. Every time I make one I change it up a little bit. If you think you're too busy to cook and you have to order take-out a couple of times a week, make a pasta salad. All you have to do is take it out of the fridge and dish it up – it's like having a fast food outlet in your fridge!
Except it's better for you.
And it tastes better.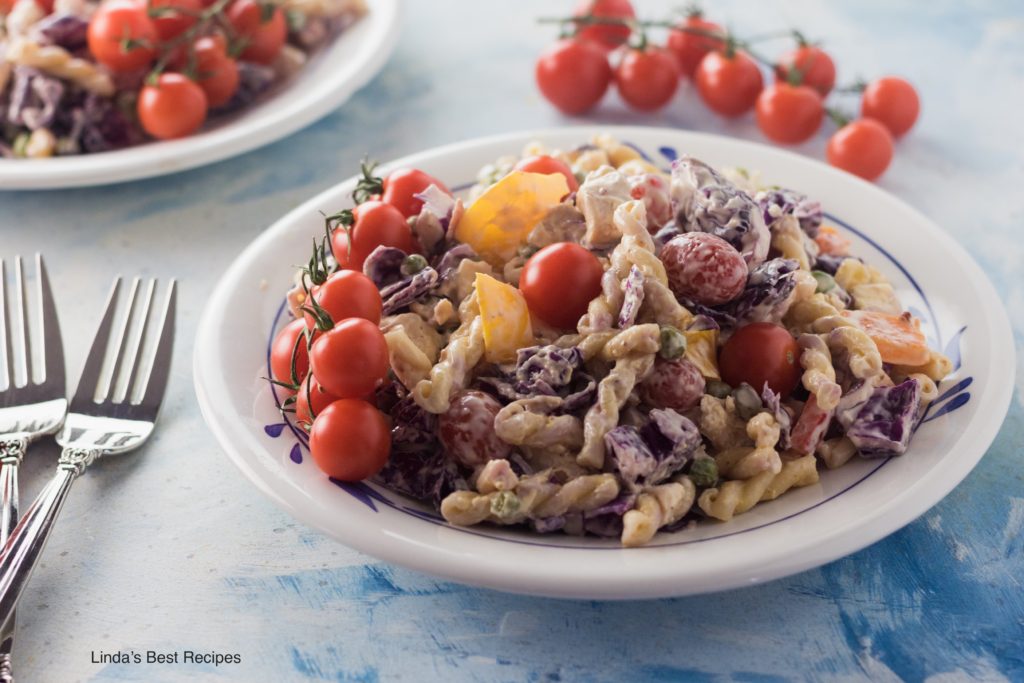 You can put any ingredient you like in these salads. Don't like cabbage? Use some chopped zucchini! If you aren't a fan of bell peppers, use some lightly cooked green beans instead. If you're a vegetarian, omit the chicken and bacon and add more veggies or some grilled tofu. And if you can't eat wheat, try one of the fabulous rice-based pastas on the market.
This recipe is based on Cabbage and Pasta Salad with Salmon and Bacon, which was based on Cabbage Tortellini Blue Cheese Salad, which was based on a layered salad recipe. See what I mean?
I make these cold salads even in the dead of winter. It's nice to have some freshness and color when it's so cold and gray outside. If you don't want to eat something cold, do what my hubby does – he microwaves his portion until it's warm. He says it makes the salad more flavorful.
This healthy and colorful salad is the perfect antidote to the late winter blues. Make it today and enjoy it for the next four days. Yum.
Steps
| | |
| --- | --- |
| | Bring a large pot of water to a boil to cook the pasta. |
| | Meanwhile, combine the mayonnaise, salad dressing, mustard, and lemon juice in a large bowl and whisk to combine. |
| | Add the pasta to the boiling water and cook until al dente, about 8 to 9 minutes. Drain well and add to the dressing in the bowl. |
| | Add all of the remaining ingredients to the bowl and stir gently to combine. Cover and refrigerate for a couple of hours before serving. |