About This Recipe
Main dish salads are so wonderful for many reasons. First, you can make a ton of them and just eat them until they are gone. Dinner is set for a few days! Thus this recipe for Chicken Club Pasta Salad.
Second, you can make a salad of just about any recipe. Turn your favorite sandwich into a recipe. Make a soup a salad. That may sound weird – but think about it. Chicken noodle soup, with chicken, noodles, and veggies, would be a wonderful salad with a creamy vinaigrette salad dressing. Gazpacho makes a great salad.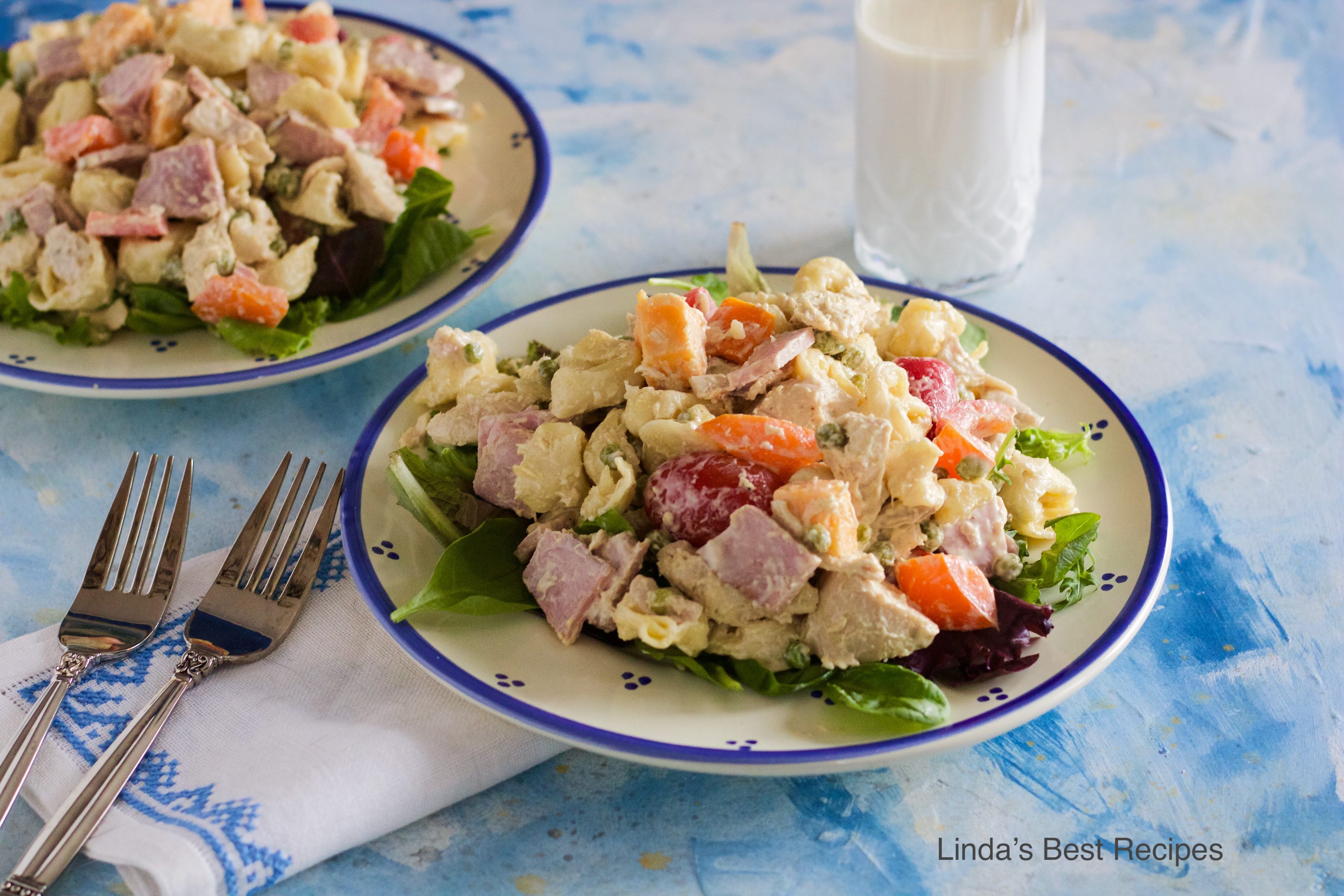 This recipe, for Chicken Club Pasta Salad is one of my favorites. It takes all of the flavors of a club sandwich and turns them into a cool salad: chicken, ham, and vegetables.
Enjoy this easy salad. Use your favorite vegetables and your favorite salad dressing, mixed with some mayo if you'd like. Just one tip: write down your creations so you can reproduce it. There's not much sadder than a lost recipe.
Tips for the best Chicken Club Pasta Salad:
As with all pasta salads, make the dressing first. Add the pasta to the dressing while it's still hot so it can absorb the flavors of the dressing and stay tender.
Cook the pasta to al dente. That means it should be tender but with a bit of firmness in the center. You have to taste the pasta to see if it's cooked correctly – that's the only way.
You can use your favorite fresh veggies in this easy salad recipe. Just cut them to about the same size so the salad is easy to eat.
Why this recipe works:
The combination of tender and mild chicken, salty ham, and sweet fresh vegetables is irresistible. The pasta stretches the other ingredients and adds a calming note.
Think about adding chopped avocado to this recipe, or top with some homemade Guacamole for a great finishing touch.
Steps
| | |
| --- | --- |
| | Bring a large pot of salted water to a boil. Put the peas in a colander in the sink. |
| | Meanwhile, combine the mayonnaise, yogurt, mustard, and lemon juice in a large bowl and whisk to blend. |
| | Cook the pasta according to package directions until al dente. |
| | Meanwhile, add the chicken, tomatoes, peppers, bacon, and cheese to the dressing in the bowl and mix gently. |
| | When the pasta is cooked, drain it into the colander over the peas. Add both to the salad and stir to mix. |
| | Cover and chill the salad for 1-2 hours to blend flavors. |
| | To serve, stir the salad. Add the avocados and serve on lettuce. |