About This Recipe
As you may have guessed by now, chocolate and peanut butter is my favorite flavor combination. Those two ingredients are just wonderful together. And there are so many ways to combine them. One of the best is in this recipe for Chocolate Peanut Butter Chewy Bars.
One quest that I have always been on is to find the perfect chewy bar cookie recipe. Brownies are the obvious choice for this quest. But a chewy brownie is difficult to achieve. Most recipes for brownies make a soft, fudgy brownie, or a cake-like brownie. Chewiness remains elusive. Not in this bar. Crushed up peanut butter sandwich cookies are used as a flour substitute. The cookies keep the bars chewy yet soft.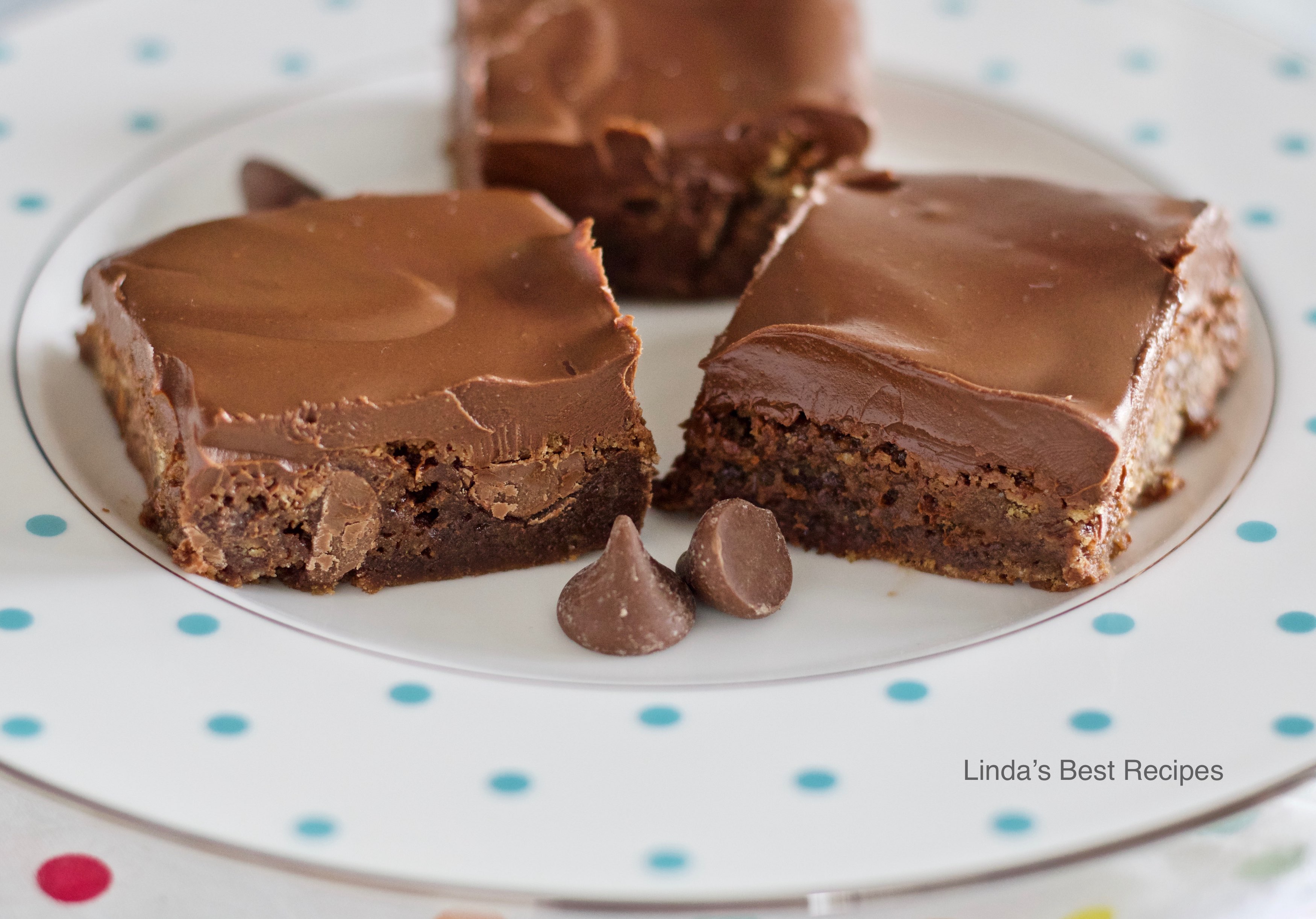 This recipe changes everything. The unusual ingredients combine to make the chewiest, fudgiest, tastiest bar cookie ever. I topped it with my favorite frosting, made from, naturally, melted chocolate chips and more peanut butter. I guess it could be categorized as a brownie!
I guarantee you'll love it. And it's so easy to make!
You bite into the bar, and your teeth sink into the creamy and velvety frosting, then meet the chewy yet tender base. Every bite is better than the last.
This is the perfect treat with a cold glass of milk, after school, to celebrate the end of another day, or just because it's Wednesday. Enjoy every bite.
Why this recipe for Chocolate Peanut Butter Chewy Bars works:
This is an unusual recipe. Instead of using flour to give the bars structure, crushed up cookies, which contain gluten, are used. I always use Nutter Butter cookies.
Be sure to use baking powder AND baking soda. If you use baking soda alone, the bars will fail because the batter will be too alkaline. It will never firm up no matter how long you bake it.
The sweetened condensed milk, along with the cookies, add the sugar in this recipe. Because the sugar is baked in the cookies and is dissolved into the milk, there is absolutely no graininess in the bars.
The cocoa makes the brownies dark so they look like brownies. And the finely divided solids add smoothness to the bar.
Finally, corn syrup makes the bars chewy too, by adding moisture.
The frosting is my favorite combination of chocolate chips and peanut butter melted together. The peanut butter interferes with the sugar crystals in the chips, which makes the frosting stay soft but firm enough to slice.
Steps
| | |
| --- | --- |
| | Spray a 9" x 13" pan with nonstick spray and set aside. Preheat the oven to 350°. |
| | Grind or crush the peanut butter sandwich cookies until fine crumbs form. You can use a food processor, or put the cookies into a sturdy plastic bag and pound them with a rolling pin. |
| | Pour the crumbs into a large mixing bowl. Add the cocoa powder, baking powder, and baking soda and mix. |
| | Then stir in the sweetened condensed milk and the corn syrup until combined. Finally, stir in the milk chocolate chips. |
| | Spread the batter into the prepared pan. Bake for 22 to 28 minutes or until the bars are set. Cool on a wire rack. |
| | For the frosting, combine the semisweet chocolate chips and the peanut butter in a small microwave safe bowl. Microwave on 50% power for 2-3 minutes, stirring once, until the mixture is smooth. |
| | Spoon the frosting over the bars and spread to coat. Let stand until set, then cut into bars. Store covered at room temperature. |