About This Recipe
Baked Risotto with Meatballs is a fabulous recipe. But first, a little history. The first time I made risotto was long before anyone in the Midwest could buy basmati rice. The grocery stores carried long grain white rice and brown rice and wild rice – and that's it. Well, and Minute Rice.
So the first risotto I made was with regular rice. And I loved it – and still love that recipe to this day.
But now you can get basmati rice even if you live in the tiniest burg in the country thanks to the internet.
But you still have to stand at the stove and stir and stir as you add chicken broth so the risotto is creamy.
Or do you?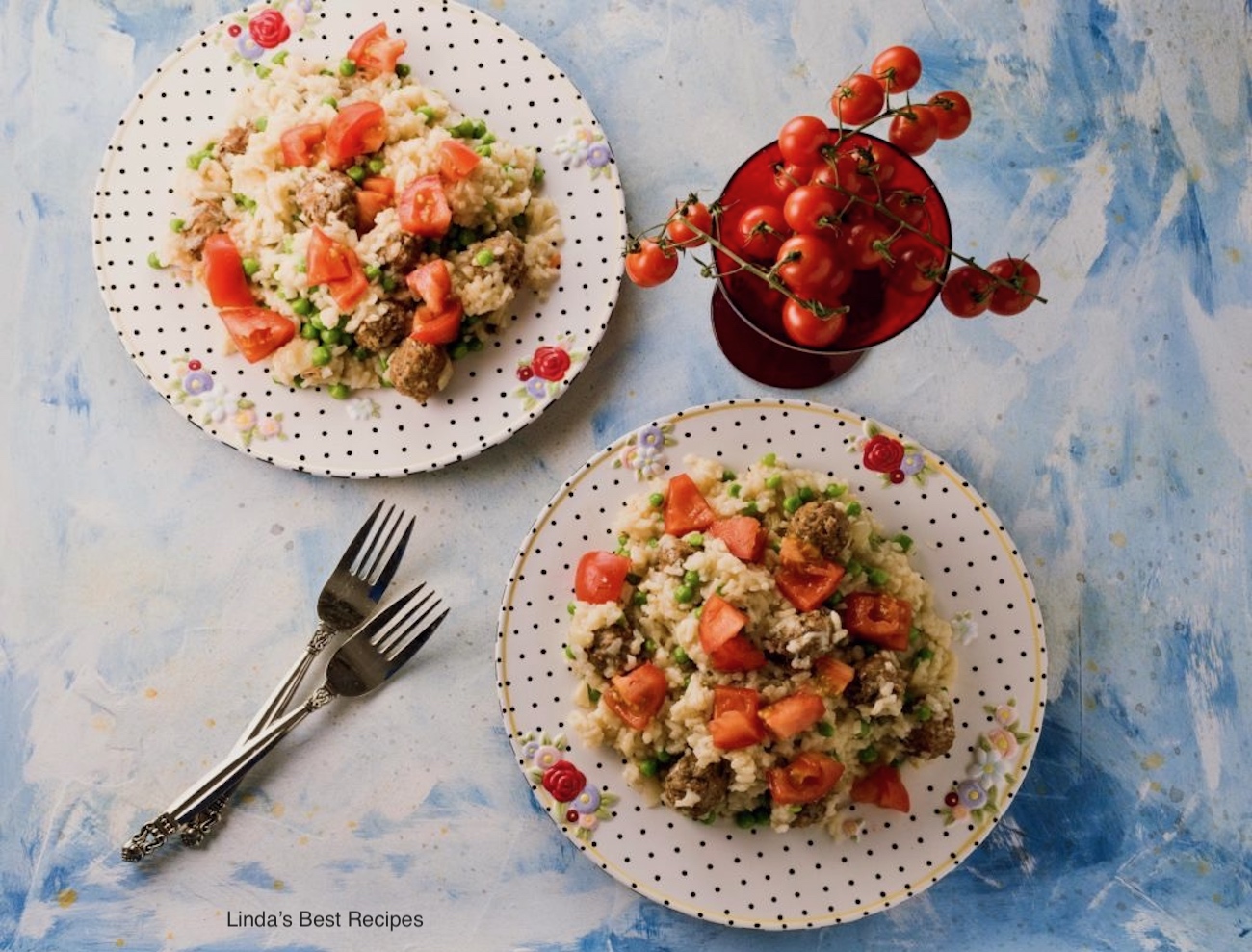 The day I discovered baked risotto was the day that changed.
This recipe isn't quite as creamy as the stovetop stuff, but it's still wonderful. And it's almost no work at all. You just need an oven (natch), an ovenproof skillet with a tight fitting ovenproof lid, some basmati rice and chicken broth, and a few other ingredients.
Enjoy this great recipe for Baked Risotto with Meatballs. I like to top it with some chopped fresh tomatoes to add a nice pop of color and flavor and temperature and texture contrast. But you can add some more grated cheese if you'd like.
Tips for the best Baked Risotto with Meatballs:
Make sure you cook the onion until it is tender, and that you cook the rice until it is coated with the oil. That helps soften the rice's outer coat so it will absorb the broth more evenly.
Cover the pan tightly with the foil so the liquid doesn't evaporate but stays in the pan.
Stir the rice gently but thoroughly to even things out. That way the rice will cook evenly.
The only way to tell when the rice is done is to taste it. It should be tender but not mushy and should still have a bit of resistance in the center.
You can make this risotto looser, "with a wave," as the Italians put it, or with less liquid; the choice is yours.
Why this recipe works:
Keeping the skillet covered in the oven ensures that little liquid evaporates, and is instead absorbed by the rice.
Turns out that constant stirring isn't really necessary in a sealed environment like the covered skillet; the boiling action of the liquid helps "stir" the rice as it cooks. Sort of like recipes for no-knead bread.
The meatballs steam and bake as the rice cooks, making this a complete one dish meal.
The tomato topping adds contrast in color, texture, temperature, and flavor, making the recipe more interesting and delicious.
Steps
| | |
| --- | --- |
| | Preheat the oven to 400°F. This is crucial - make sure that the pan with the lid on it fits in the oven. I have a double oven with a smaller top oven - my pan with the lid doesn't fit in that so I use the bottom oven. |
| | In a large ovenproof skillet, heat the olive oil over medium heat. Add the onion and garlic; cook and stir for 3 to 6 minutes or until tender. Add the rice. |
| | Cook and stir for a few minutes or until the rice is coated with the onion mixture. Add the chicken broth all at once and stir. Bring to a simmer. |
| | Stir the mixture, then top with the meatballs. |
| | Cover the pan with heavy duty foil, and carefully fit the lid on top. Put it in the oven. |
| | Bake for 20 minutes, then carefully remove the pan from the oven, remove the lid (use a hot pad - it will be hot!) and the foil. Stir the mixture and taste the rice. If it's tender and the liquid is absorbed, move on to the next step. If the rice isn't quite done, cover again and bake for another 5 minutes. I sometimes have to bake the last 5 minutes with the lid off if there's too much liquid. |
| | When the rice is tender, add the butter, cheese, and peas and stir gently. Cover and let stand for 5 minutes, then serve with the fresh tomatoes. |