About This Recipe
If you are from the Midwest, you know all about Nut Goodies, that fabulous round candy bar that layers chocolate coated peanuts with a smooth maple filling. I have always loved that candy bar, but never really liked the maple flavor; it just doesn't seem to belong. So this recipe for Nut Goody Bars (or Nut Goodie Bars), which is even better than the original, is perfect.
When I make these bars, which are about 1000% better than the original, I use lots of vanilla. I don't think the maple flavor, which is called for in most of these recipes, adds anything to the candy. And add a bit of peanut butter to the filling for extra smoothness and a bit of flavor boost.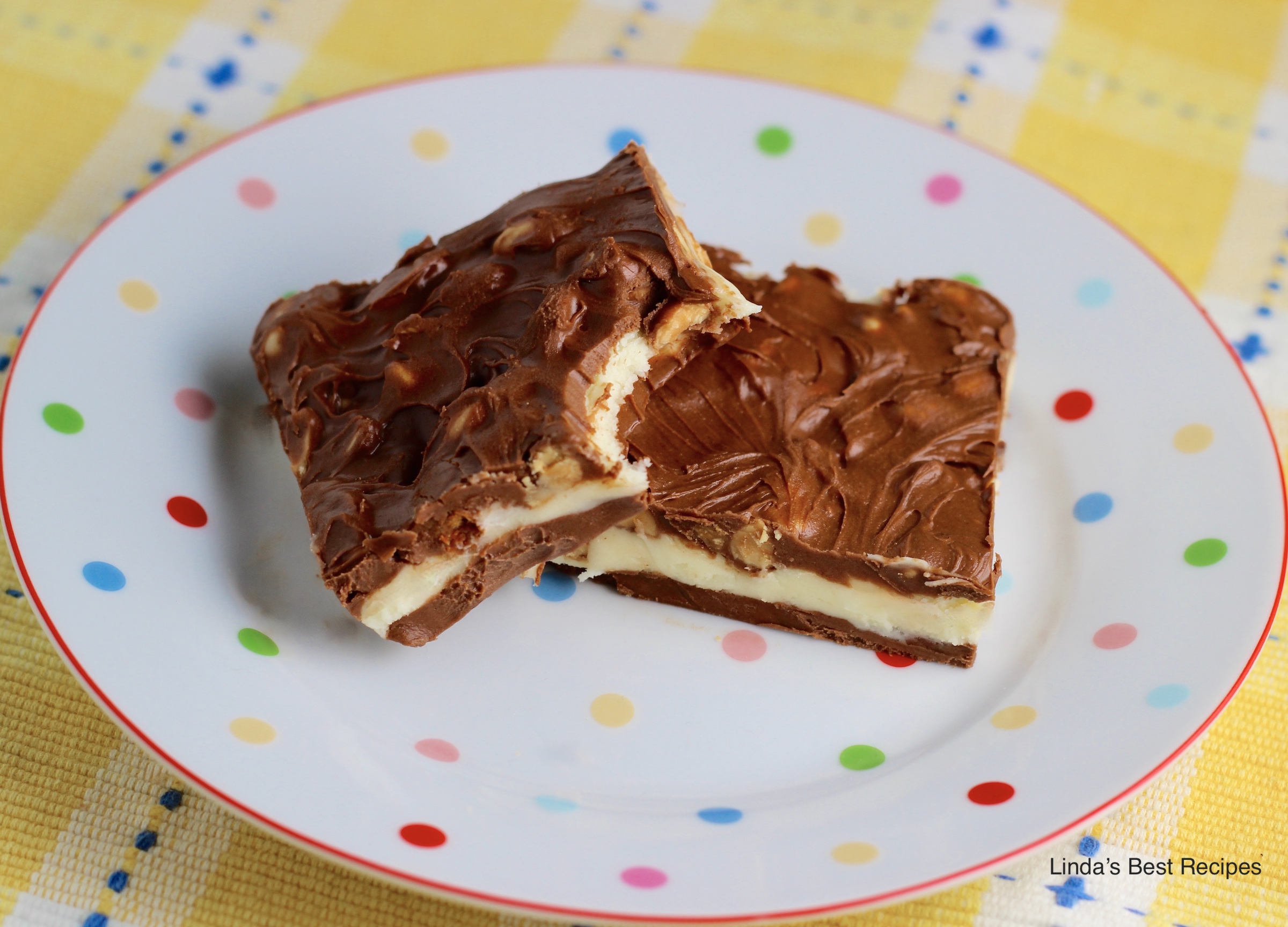 This makes a huge pan of bars, so it's best to make it when you are expecting company or at Christmas. The bars do freeze, but I think they are better when freshly made.
The ingredients for this recipe are pretty expensive: it costs about $12 for all of them. But you can serve 18 to 20 people with this recipe, and it is so spectacularly indulgent that it's worth every penny.
The bars must be made ahead of time because it takes time for the whole thing to set up. Enjoy every bite.
Tips for the best Nut Goody Bars:
The filling will be smoother if you sift the powdered sugar before you use it. Just push the sugar through a large sieve.
You must use a wire whisk to cook the pudding mixture, and you must use a hand mixer or stand mixer to beat in the powdered sugar. Trust me; your arm will be so tired if you don't use an electric mixer.
Why this recipe works:
Melting chocolate chips with peanut butter adds great flavor to the chocolate and means that the two outer layers blend beautifully with the middle peanut cream layer.
Don't use peanuts that still have the skin on. The skin will separate from the nuts as you stir them into the chocolate mixture and will add an unpleasant texture. Plain old roasted peanuts are best for this recipe.
Take your time making this recipe. Each layer has to set in the fridge before you can add the other so the layers are distinct.
Steps
| | |
| --- | --- |
| | Grease a 15-inch by 10-inch jelly roll pan with unsalted butter and set aside. |
| | In a large microwave proof bowl, combine the milk chocolate and semisweet chocolate chips. Microwave on high power for 1 minute, then remove and stir. Continue microwaving for 1 minute intervals, stirring after each interval, until the mixture is smooth. |
| | Add 1 cup of the peanut butter to the melted chocolate chips and stir until smooth. |
| | Spoon half of the chocolate mixture into the prepared pan and smooth into an even layer. Refrigerate until set. |
| | Stir the peanuts into the remaining melted chocolate mixture in the bowl; set aside. |
| | Combine the butter, half and half, and pudding mix in a large saucepan over medium heat. Cook, stirring frequently with a wire whisk, until the mixture thickens. Do not boil. |
| | Stir the remaining 1/2 cup peanut butter into the pudding mixture until smooth. Then beat in the 7 cups of powdered sugar, using a hand mixer. Stir in the vanilla. |
| | Spread the pudding mixture over the chilled chocolate mixture in the pan. Refrigerate for about an hour. |
| | Then spoon the chocolate mixture with the peanuts over the pudding layer, then gently spread to cover. Refrigerate for 2 to 3 hours until firm, then cut into squares to serve. Store, covered in the fridge. |