About This Recipe
I love making Spaghetti Carbonara; in fact, it's my go-to recipe when I just don't feel like cooking. The combination of egg, cream, and cheese is mixed with hot cooked pasta and bacon. The heat of the pasta cooks the egg and makes a creamy sauce. This recipe for Tortellini Carbonara is a great variation on that theme.
The idea of using tortellini instead of spaghetti or linguine came to me suddenly as an inspiration. I always have some on hand in the freezer. I added frozen baby peas and a great recipe was born.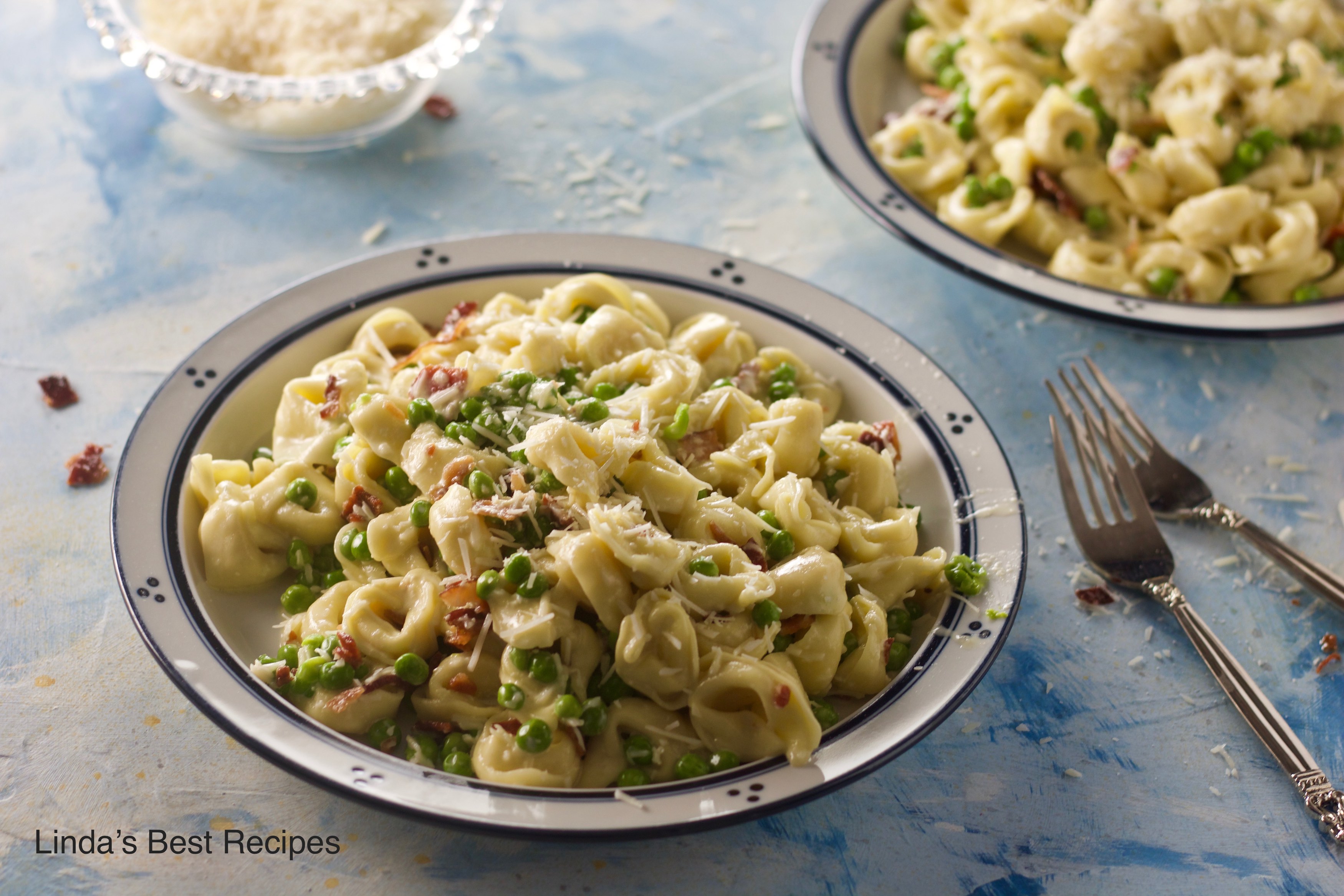 The tortellini adds more interest than plain old spaghetti or fettuccine or linguine. And the cheese filling of the pasta makes the dish heartier. You can use cheese or meat filled tortellini.
Serve this dish with a nice green salad tossed with some grape tomatoes and mushrooms if you have them on hand, and drizzled with a simple vinaigrette.
Tips for the best Tortellini Carbonara:
Never overcook frozen tortellini. Remember that you are just reheating it; the pasta is already cooked.
The eggs do not cook to a safe final internal temperature in this type of recipe, even if you mix the eggs in while the pan is on the heat. Use pasteurized eggs if you are concerned about that.
Serve this recipe immediately, preferably with Cheesy Toasted Bread Sticks. Remember – hot food should always be served hot.
Why this recipe works:
Egg and cream, when combined, make a custard that is always cooked. The mixture is not cooked when it's added to the hot pasta. I can't figure out a way to test the mixture to see if it's at a safe temperature, so I just assume it isn't.
You must immediately add the egg and cream mixture to the hot pasta after it is drained. If you wait, the egg and cream won't cook and will remain runny.
The boiling pasta water thaws the peas when the pasta is drained over them.
This simple recipe can be used with any type of pasta. But try it this way at least once.
Steps
| | |
| --- | --- |
| | Bring a large pot of water to a boil. Add the tortellini and cook until they are tender. This should take 3 to 4 minutes. |
| | Meanwhile, combine the egg and cream in a small bowl and beat well. |
| | Put the frozen peas into a colander in the sink. |
| | When the tortellini is tender, drain into the colander over the peas to thaw them. Return the tortellini and peas to the warm pot you used to cook the pasta. Put the pot on the stove and turn the heat to low. |
| | Add the egg and cream mixture and mix with a large spoon to coat. You could also use tongs to lift the pasta and turn it in the sauce. Add the bacon and the Parmesan cheese and mix again. Serve immediately. |